Cheap Shot:  "An act of deliberate violence against an opponent, and one that is committed when the opponent is not expecting it and is not able to defend himself."
A few months ago we compiled a collection featuring some of the worst sucker punches and cheap shots in the history of combat sports (if you've not seen it yet then you can still check it out here.)
The sad fact is that this kind of thing happens so often that there's more than enough incidents out there to compile a sequel, so without further ado we present to you Sucker Punch 2: Revenge Of The Cheap Shot!
—
First up on our hall of shame is Manny Gamburyan who came to prominence via the The Ultimate Fighter show and fought in the UFC before switching to the WEC.
Of all the clips shown in this feature Gamburyan's is perhaps the most innocuous, pretending to tap gloves with his opponent Jeff Cox at the start of their fight at UFC Fight Night 13 in April of 2008, but then quickly withdrawing his hand and kicking him in the chest instead.
The reaction of the spectators, who loudly booed the Armenian, and the criticism he received afterwards from fans and media alike does however serve as a reminder as to how distasteful people find the kind of unsportsmanlike behavior we're about to show you later on in this feature.
—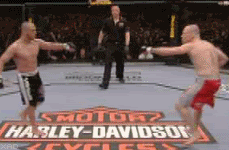 —
Vietnamese fighter Nam Phan, who can currently be seen competing in the 12th season of The Ultimate Fighter was almost the victim of this kind of underhand tactic a few years ago.  As you'll see below he deals with the situation by dishing out some instant karma.
—
—
If you've ever wanted to see these glove tap cheating douchebags get their comeuppance then look no further than the clip below, and if your religious then feel free to consider this as the best proof yet that there is a god…
—
—
If there is a god then he was clearly either taking a nap during one of KJ Noons recent fight at Strikeforce: Houston, or has a serious grudge against his opponent Jorge Gurgel.
During the fight Gurgel had the dubious honor of being perhaps the first and only man to ever be knocked out twice by cheap shots in the same fight, though to be fair to Noons there is some debate over whether these were intentional.
At the end of the first round the bell sounds just moments before Noons unleashed a textbook left hook that floored Gurgel.  You can't hear the bell in the clip below, but notice how the referee is already stepping in to split them up before the punch is thrown, and that the cage door is also in the process of being opened in the background.
—
—
Still on queer street after the punch Gurgel gets back up and staggers to his corner, and the fight goes to a second round.  Perhaps Gurgel showed to much heart for his own good though as he was quickly knocked down again in the second.
To make matters worse with Gurgel clearly finished Noons then landed one final blow, an illegal knee to his grounded opponent just as the referee as stepping in to call an end to the bout.
Despite the illegal blows Noons was awarded the win and escaped punishment.
—
—
Noons isn't the only man to have floored an opponent within moments of the end of round bell.  In the sport of boxing Ali Funeka removed sent Zahir Raheem crashing to the canvas in similar fashion.
As with Noons, Funeka was given the benefit of the doubt here and awarded the TKO.
—
—
So, as we've just witnessed, sometimes it's difficult to detect whether a cheap shot was intentional or not.  When K-1 superstar Badr Hari does it though, there's no doubt whatsover.
Appropriately nicknamed 'Bad Boy', Hari's temper has got the better of him on two separate occasions during high-profile bouts airing live around the world.
Firstly, while his opponent at the 2008 K-1 World GP final Remy Bonjasky was on the canvas, Hari ignored the referees attempts to intervene and began punching and stomping on his opponent.  For his actions the Moroccan was disqualified for unsportsmanlike conduct and had his fight purse rescinded in addition to losing his heavyweight title.
—
—
Despite the punishment Hari clearly didn't learn his lesson and earlier this year he was again at the center of controversy in the ring after kicking his downed opponent Hesdy Gerges flush in the face during an 'It's Showtime' title fight in Amsterdam.
Again Hari found himself disqualified and stripped of his title. Though he refused to speak in the ring, Hari later made a public apology and announced that he was set to take an extended break from the sport.
Continuing to live life on the wild-side, the fighter turned himself into the police last week after fighting with bouncers outside a bar in Amsterdam.

—

—
Years earlier another world renowned K-1 fighter Jerome Le Banner had found himself at the center of a controversial moment in the ring. The clip below brings a new meaning to sucker punch in that JLB's opponent Nicholas Pettas was a sucker for not staying down after getting knocked senseless by the French heavyweight in the semi-finals of the K-1 GP in 2000.
Instead he chose to get right back up and threaten to hit him, resulting moments later in him again lying on the canvas, this time in far worse shape than before.  Le Banner escaped punishment and later that night went on to claim the K-1 title by defeating Ernesto Hoost.
—

—
Speaking of bad boy's, boxing's equivalent of Badr Hari could well be Ricardo Mayorga who's as comfortable throwing cheap shots outside of the ring as in it.
Earlier this year at a press conference for a Shine Fights event Mayorga squared up to the man who he'd be facing in his mixed martial arts debut, Din Thomas.   At 3.42mins of the clip below watch as things become heated and he suddenly throws a backhand at Thomas, catching him with a glancing blow.
—
—
In actual fact this wasn't the first time Mayorga had pulled such as stunt. Back in 2007 at a press conference prior to his boxing bout with Fernando Vergas, he attempted to throw a similar backhander at his opponent (4.28mins in the video below), causing a brawl to erupt on-stage.
—
—
Sucker punching a fighter is bad enough, but attacking a referee is quite another. One of the most infamous instances of this was carried out by one of MMA's most controversial fighters, Gilbert Yvel who had gained notoriety for biting an opponent and eye-gouging another.
On this occasion the renowned knockout artist took exception to the continual interference of the referee, flooring him with a vicious left hook and then throwing in a kick for good measure.  At this point his opponent wisely decides he wants no part of this and quickly vacates the ring while Yvel's trainers rush in to calm him down.
Needless to say Yvel was disqualified and for years after he found difficulty obtaining a license to fight in the U.S.
—
—
UFC star Phil Baroni also tried to fight with referee Larry Landless after the official thought that he was asking for the fight to be stopped while being ground and pounded by Evan Tanner at UFC 45 when in fact it turned out Baroni was trying to tell him he was OK.
Landless rushed in and called an end to the fight, causing an angry Baroni to throw punches at him in frustration. He didn't land anything significant but ended up with a four month suspension for his actions. Landless later publicly apologized to the fighter for making the wrong call.
—
—
Incidentally, Baroni was then the victim of a cheap shot himself at a Cage Rage event when an irate family member of the fighter he had just KO'd took it upon himself to headbutt him. Props to Baroni for barely batting an eyelid at the incident.
—
—
back to the referees though, and it's worth bearing in mind that not all of them will stand idly by while being used as a human punchbag.  For instance the official below clearly has a few moves of his own and decides to demonstrate them on an irate fighter who had just taken a swing at him.
What I particularly like about this clip is the fact that after launching the perpetrator into orbit, he then quickly slips back into referee mode amid the chaos and reprimands the other fighter for taking a free swing at the assailant.
—
—
Anyone who knows of Viacheslav Datsik, the crazed Russian fighter who only recently was in the news after escaping from a mental institution in Russia (I'm not kidding), will not be surprised to learn that he's once sucker punched a referee during a fight.  Chaos then ensued as the ref fought back and ended with the two of them tumbling head first out of the ring.
All in a days work for the most unhinged fighter ever to step into the ring.
—
—
So, between the two parts of this feature we've seen all kinds of unsportsmanlike conduct – sucker punches before, during and after the bell; fighters throwing cheap-shots at referees, referees hitting fighters.
I'm sure you'll agree we've pretty much covered all the bases…well except for the time when a referee sucker-punched a cornerman into oblivion, sparking of a mini-riot in the process…
—
—
One final note: If you've got any ideas of using the sucker punch – don't…or at least look around and check that former UFC fighter Roger Huerta isn't in the vicinity first…
—
—
"there's a sucker born every minute." – P.T Barnum.

Article By RossC
Further Reading:
/SuckerPunch550x190.jpg">