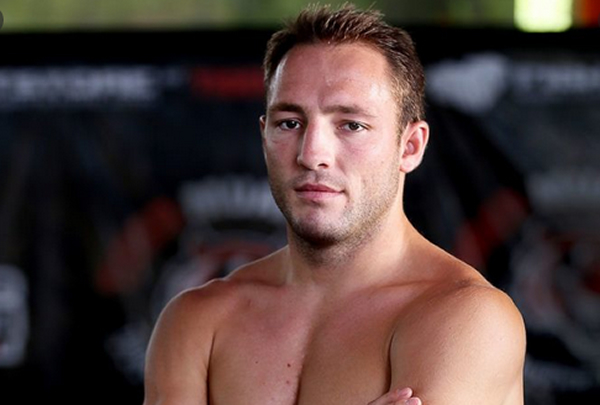 Good work from former kickboxer Brad Riddell on the feet together with showing his ability to repeatedly get back to his feet when taken down helped him earn a split decision victory over Magomed Mustafaev tonight at UFC Fight Night 168.
Round One:
Kick to the upper body from Mustafaev. Another body kick for him as Riddell tries to launch his right hand.
Looping right hand from Riddell and it drops Mustafaev. Riddell gets on top looking for a finish, but Mustafaev is still alert enough to work for a leg lock. Riddell manages to survive that, but Mustafaev uses it to find the space to stand up.
Now it's Mustafaev who is hunting for a takedown against the cage and he gets him down. Riddell on one knee and then is able to stand, but Mustafaev manhandles him to the mat again.
Again Riddell is on one knee looking for the right opportunity to stand up. He does so, but Mustafaev still has his back and takes his feet out from under him once again.
Back to one knee is Riddell. Sense of deja vu here. Nice knee upstairs from Mustafaev when Riddell stands this time and then attempts another. Riddell turns around trying for a guillotine choke, but Mustafaev is quickly out of that and keeps Riddell pressed against the cage.
Big knee to the body as Riddell stands up then is brought back down yet again. Riddell fights his way up and Mustafaev lands another knee.
Final 30 seconds of the round and Riddell finally manages to explode out of this clinch and gets back to striking range, though he's unable to get anything going from there before the horn sounds.
Round Two:
Right hand lands for Riddell as he lunges in. Now a leg kick. Mustafaev goes for a front kick and it just whistles past Riddell's chin and he falls momentarily from overextending on that technique.
Back at striking range and Riddell is threatening with the right hand again. Now a leg kick. Overhand from Mustafaev misses. Leg kicks exchanged.
Clipping left hook in close from Riddell. Front kick to the body from Mustafaev. He misses with an overhand again. Body kick for Riddell.
Nice uppercut from Mustafaev. Front kick to the body and now a right hand lands, but Riddell scores with a counter punch.
Mustafaev spins around off-balance from missing a strike and then ducks down trying to salvage something with a takedown, but it doesn't pay off.
Mustafaev lands a punch. Hard body kick for Mustafaev. Riddell counters and Mustafaev responds, then works a reactive takedown and secures it.
However, as in the previous round, Riddell is soon back upright with Mustafaev remained clinched up with him against the cage looking to do the same again.
Riddell turns into Mustafaev. Mustafaev working for a single leg and gets the takedown. Riddell to one knee and Mustafaev lands a few knees to the leg before his opponent stands.
Solid takedown, but Mustafaev just can't keep Riddell down for any length of time at all and he ends the round back on his feet again.
Round Three:
High kick attempt for Riddell lands to the chest. He lunges into a one-two. Spinning backfist attempt and Mustafaev falls to his back off-balance rather than hurt.
Back upright and Riddell is pressing the action. Jumping knee attempt from Mustafaev. Riddell clips him and he falls, but immediately works into a takedown against the cage. Riddell does well this time to spin away.
Leg kick for Riddell. Spinning backfist from Mustafaev is very close to landing but he goes to ground and Riddell lands on top.
It looks like they are going to stand but then Riddell goes back into his guard. Riddell is bleeding significantly from a cut that was caused by the earlier spinning backfist.
They stand back up. Riddell lands a hard body shot. Mustafaev gets another takedown. He's trying desparately to keep Riddell down, but again is unable too. As they get back up this time Riddell manages to get Mustafaev down. He motions to the crowd and lands a few ground and pound blows that gets them cheering.
Mustafaev clinging on hard to a single leg. He's trying hard for a final takedown in the last 10 seconds and goes for it, but it's Riddell who manages to get him down to end the round on a high.
Decision:
Mustafaev certainly landed a lot of takedowns in this fight, but his inability to capitalize on that, together with strong work from Riddell on the feet, including dropping his opponent helps the New Zealander to a split decision victory (29-28 x2, 28-29).