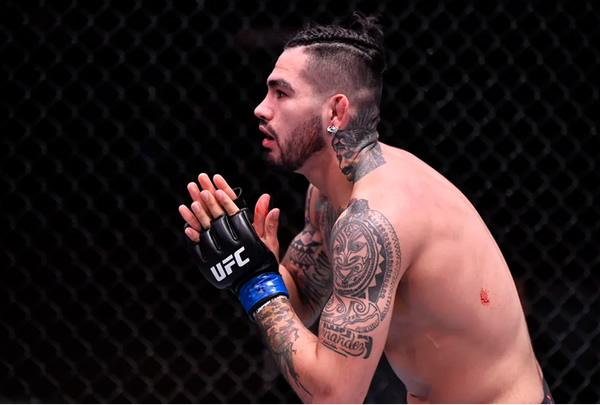 Anthony Hernandez dominated Marc Andre Barriault with his repeated takedowns tonight at UFC Fight Night 210, before sealing the deal by locking in an arm triangle submission in the third round.
Round One:
Front kick to the body from Barriault. Hernandez moves into range and Barriault gets into the clinch with him and moves to the cage.
A few strikes back and forth inside from the clinch and then they break apart.
Barriault with an overhand right. He lands another strike and then Hernandez moves in on a potential takedown against the cage. Barriault threatening with a standing guillotine choke, but he steers clear of it and there's a battle for position.
Hernandez with a punch and goes back to the takedown attempt and brings him down. Barriault working to stand immediately against the cage. He does so but Hernandez works for a takedown again and after a bit of a struggle gets it.
Barriault works back up again. Hernandez eager to get the action back down and does so as Barriault attempts a guillotine choke and then gives up on it.
Back to the feet and Hernandez lands a big elbow strike, but then Barriault lands one too. Hernandez works punches to the body and then is able to land another takedown.
Hernandez able to settle into Barriault's guard this time. He stacks up and lands a few solid punches to end the round. Barriault is rubbing gingerly at his ribs as he goes back to his corner and seems to be indicating to his corner that he might have broken on.
Round Two:
Punch from Barriault. He lands another straight punch and battles into the clinch momentarily.
Back at striking range and Barriault lands the jab. Now an overhand from him, but Hernandez then gets in close and lands a nice takedown.
Hernandez in half-guard and lands a few elbow strikes. He lands another one. And again. Barriault scrambles over to the cage. Hernandez still landing a few strikes though and prevents his first attempt to stand. Barriault able to stand up again after that, but Hernandez takes him straight down.
Hernandez working from half-guard again. Barriault rolls to his knees in the center of the Octagon. Hernandez takes his back and then gradually works his way to full mount. Barriault gets him back to half-guard though and is using the Octagon to stand.
Body shot for Hernandez. Barriault with a punch in response and Hernandez lands again. However, Barriault digs deep and connects with a clean punch that gets his opponent's attention as the round is coming to a close.
Round Three:
Barriault with a jab. Solid body kick from Hernandez. Hernandez spins around to take his back and brings him down.
Barriault trying to stand up, but Hernandez does well to keep him down. Barriault using the cage to stand again. Hernandez picks him up and literally drops him straight on his head! Thankfully Barriault is still ok – that could have been a bad one.
Now Hernandez is setting up an arm triangle and he locks it in nicely and Barriault quickly taps out.