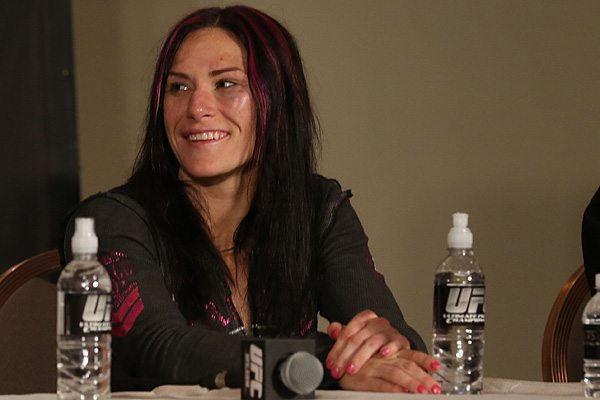 Cat Zingano made a triumphant return to the Octagon tonight at UFC 178, enduring an early storm from Amanda Nunes before taking over in the second round and finding a TKO finish early in the third.
Round One:
Very hard leg kick from Nunes to start that knocks Zingano off-balance, then she swoops in for a takedown and lands it.
Good start from her and she's in half guard and being patient by her standards. A brief scramble and Nunes stays on top. Zingano throws her legs up and she's got an armbar attempt here, but Nunes manages to shake it off and stay in a dominant position.
Nunes stands over Zingano and has to watch the upkick. She stays upright and lands a few kicks while Zingano remains on her back.
Then suddenly Nunes leaps in with a huge punch. She's now unleashing a big flurry of punches. She's eating a lot of punches to the face here, but she's still hanging in there. Unrelenting offense here from Nunes and she shrugs off Zingano's attempts to work a submission.
Zingano's very tough to have endured this early blitz from the always aggressive Nunes. Suddenly Nunes changes things up, looking for a submission, but she's got it wrong and suddenly it's Zingano who's able to get on top.
Big mistake from Nunes there after being so dominant and now it's Zingano who's enjoying a spell on top. Not for as long as her opponent though as they get back upright.
Zingano with a terrific lateral drop to get Nunes to the mat and she ends the round on top with the momentum now on her side.
Round Two:
Into the clinch they go to start with knees being landed. Zingano lands another excellent throw and is in side control with Nunes putting her feet up against the cage.
Zingano steps over thinking about a submission, but then just looks to switch sides. Nunes gets her into her guard though. Zingano postures up and lands a few strikes. She stands and lands some hard kicks to her still grounded opponent.
Zingano drops for a leg lock, but has to scramble and get back on top when it doesn't work out. Zingano working from half guard, landing a few light shots and staying solid on top.
A couple hard elbows land for Zingano with 2 minutes of the round remaining. A punch to the body and a couple of solid ones to the head follow. And elbow and a right hand now.
Zingano goes for a foot lock, straining hard for it, but Nunes fights it off. Nunes tries to get to a better position, but Zingano drags her flat to her back again. Zingano working more ground and pound now which staying tight to Nunes chest as the round comes to a close.
Round Three:
Both men miss with strikes and get into the clinch. Zingano snaps Nunes head down, lands a knee and then lands another beautiful lateral drop style throw.
Zingano in full mount and landing a few left hands and then some nasty right elbows that open up a big cut on Nunes head. The ref is watching this closely and Zingano is pouring it on, posturing up and landing repeated left and right blows and this one is all over with 1.21mins of the third round gone.
Terrific display from Zingano and well earned after everything she's been through. Better still, her victory will now earn her the title fight with Ronda Rousey she should have had last year.