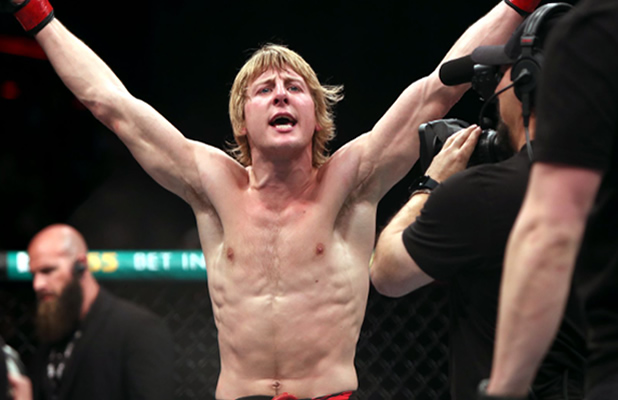 Paddy Pimblett lived up to the hype in London again tonight at UFC Fight Night 208, submitting Jordan Leavitt with a second round rear-naked choke.
Round One:
Pimblett with a punch as he presses forward and Leavitt was looking for a kick.
Pimblett with punches as Leavitt is backed up against the cage, but then Leavitt goes for a takedown. They struggle for control at close range and Leavitt gets a takedown.
Pimblett back up quickly though, but Leavitt pressing him into the cage. Pimblett thinking about a choke but Leavitt hoists him up into the air. There's a brief struggle and then Leavitt does slam him down.
Pimblett working a guillotine choke straight away. He locks it up, but Leavitt stays calm and Pimblett lets it go for now.
Back up they go, but Pimblett drops back down with another guillotine attempt. Leavitt defends it immediately though and is free.
Pimblett back up but Leavitt still clinched up and brings him down again. Pimblett uses the cage to stand, but for now he's still stuck in this clinch position.
Leavitt goes for the takedown, but it's not fully completed and Pimblett is looking to transition on top. There's a bit of scramble and then back upright again, but still in the clinch with Pimblett landing a few elbows.
Finally Pimblett gets free and runs across the cage to get some space. Leavitt comes after him and throws a kick. Pimblett goes for a choke and drags Leavitt to the mat with it.
Not long for Pimblett to work though and he gives up on the choke and looks for some ground and pound instead.
Round Two:
One-two from Pimblett of his opponent's guard. Leavitt with a light front kick. Missed punches from Pimblett and another front kick from leavitt.
Pimblett comes pressing forward with a flurry of punches without landing cleanly. One-two for Pimblett. Punch lands for Leavitt. Now leavitt drives into a single-leg attempt and then settles for the clinch against the cage as in the first round.
Elbow strike from Pimblett as leavitt drops to his knees trying for this takedown. Nothing doing and he stands again, remaining in the clinch.
Suddenly Pimblett is working for a choke from this standing position. Leavitt stuck in this for now and then Pimblett lands a good knee to the head for good measure and Leavitt didn't like that and sinks to the mat.
Pimblett taking his back now and goes for a rear-naked choke while keeping one of opponent's arms trapped in the body triangle. It's tight and Leavitt has no option but to tap out.
Another big submission win at 2.46mins of the second round for Pimblett!