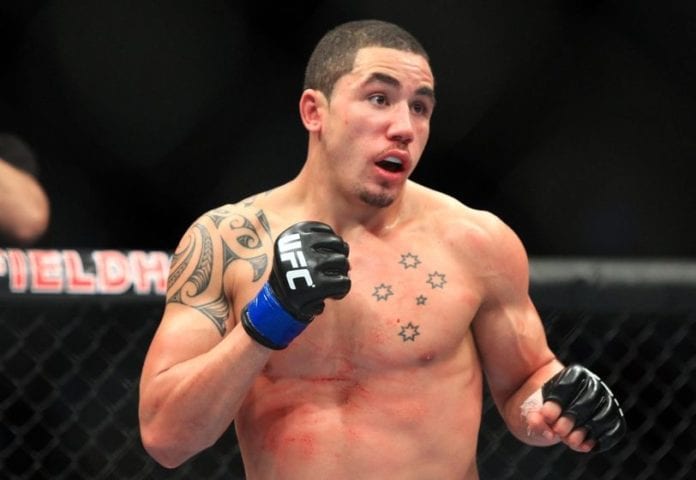 In a hard-hitting encounter in which both fighters were rocked at times, Robert Whittaker survived a late surge from Yoel Romero to emerge with a split decision victory tonight at UFC 225 in Chicago.
Round One:
The main event is underway in Chicago!
Oblique kick for Whittaker to start. He continues to work that technique in the opening minute of the round. Whittaker tests Romero's guard with a jab.
Romero thinks about a head kick, but it's Whittaker who connects with a leg kick. Left hook from Whittaker is blocked. Back to the side kick to the knee. Another chopping kick and a punch upstairs.
Left hand for Romero. Whittakers slips accidentally. Romero launches another big strike and Whittaker has to be careful of his sudden offense.
More kicks to the knee from Whittaker. left and then a solid right hook from Whittaker. Good one-two from Whittaker. left from Romero partially lands.
Whittaker doubles up on the jab. Now a right head kick attempt is blocked. Spinning backfist from Romero misses. Side kick to the knee from Whittaker and briefly thought about grabbing a leg, but instantly let go.
leg kick for Romero. left hook from Romero wings over his opponent's head. Romero bursts forward and lands a solid leg kick.
Body punches from Whittaker. Romero lands a body kick. Romero with a speedy spinning backfist that doesn't land.
Round Two:
Side kick from whittaker and a punch from Romero in response starts the seconds round. Low leg kick for Whittaker. More side kicks for the champion.
Right hook from Whittaker. Side kick to the knee from Romero now. Whittaker feels in with the jab. Front kick to the body from Whittaker. Now another body kick.
Whittaker continuing to snap out the jab. Front kick to the body. Now a low kick. knee from Romero to the body. left hand for him.
Romero misses with a head kick. Romero suddenly has very bad swelling around his right eye. It looks swollen shut. Whittaker with a big head kick that's blocked.
Whittaker winging a couple of punches. Solid left hand for Romero. Head kick from Romero almost catches Whittaker off-guard.
Romero trying for a takedown and it fails. Side kick to the lead leg from Whittaker and penetrating jabs behind it.
Round Three:
Body kick for Whittaker. Romero with a hook. Whittaker just misses with a big head kick. Romero with a huge right hand that hurts Whittaker and staggers him.
Romero suddenly in the ascendancy as Whittaker tries to keep on his feet under attack from Romero. Romero lands a big punch again and is putting Whittaker in real trouble against the cage. Whittaker unleashes a big elbow strike and it lands. Romero on the attack again though.
Romero keeps Whittaker up aginst the cage and works two body punches. Spinning back elbow from Whittaker lands. Romero staying in the clinch.
Whittaker now pressing Romero up against the cage, but Romero reverses. They jockey for position and Romero tries for the takedown, but Whittaker stays upright.
Romero wings punches. he looks a bit tired but is throwing heat. He gets Whittaker backed up to the cage and Romero snaps his head back with a few punches.
Back to the center of the cage Whittaker catches Romero with a head kick, but he eats it. Whittaker backing up as Romero lands punches.
Whittaker under pressure against the cage and flops to the mat for a moment and then battles back up. He clinches Romero against the cage and remains there for the final seconds of the round.
Round Four:
left hand gets through for Whittaker. Side kick low to the leg. Side kick to the body for the champ. Big kick from Whittaker. He goes for another head kick that's blocked.
He stamps on Romero's knee wit hthe side kick. Accidental groin strike forces a brief stoppage.
Body kick for Whittaker. Powerful left hand threatening from Romero. Tripling up on the jab from Whittaker. Stamps the side kick to the knee.
Jab for Whittaker. Again with the side kick for Whittaker and then a front kick to the body. Body shot for Romero. Solid left for Romero.
One-two for Whittaker. jab for Romero. Whittaker the busier fighter, but Romero is always dangerous. Whittaker with a couple of jabs. He tries for an elbow and almost gets it but is caught by a counter from Romero.
Punch from Romero and Whittaker's legs go wobbly for a second. Another big right for Romero and Whittaker is hurt again, but he's still upright and taking ti well under the circumstances. Romero whipping another punch out there. Whittaker digging deep and makes it to the end of the round, but sits down heavily on his stool afterwards.
Round One:
Big one-two from Romero has Whittaker backing up. Spinning back kick to the body from Romero. Whittaker misses with a side kick as Romero also misses. Good follow-up on the jab from Whittaker.
left hand lans for Romero as he stalks Whittaker. Big left hook from Romero and Whittaker drops dazed. Whittaker on his knees and covering up as Romero lands ground and pound.
Whittaker hanging on in there and grabs tight on Romero's legs and drives him to the cage. He's working hard for a takedown. Romero stays on top and chisels away with short punches to the head.
Whittaker upright, but Romero connects with an elbow. Romero on him and brings the champion to the floor.
Whittaker on one knee next to the cage. He takes his time and stands, but soon after Romero kicks his leg out from under him for another brief takedown.
They go back to the center of the Octagon in the final 30 seconds. Kick from Whittaker and Romero is knocked off-balance to the mat as he attempted a spinning attack.
Back upright and both men are still looking to engage in the final seconds of a hard-fought fight.
Decision:
Both fighters found themselves in trouble during this five-round encounter, with Romero dropped early and Whittaker being rocked several times later in the fight.
In the end the judges render a split decision result, and it's Robert Whittaker who emerges victorious (48-47 x2, 47-48).