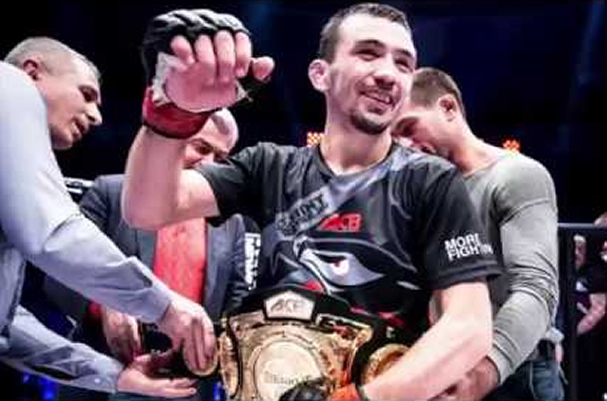 A highly competitive fight between Askar Askarov and Brandon Moreno tonight at UFC Fight Night 159 ended in a split draw ruling.
Round One:
Moreno with a jab to start. Now a body punch from range. Hard low kick from Askarov. Front kick to the body from Askarov. Now he goes for the takedown and Moreno looks to strike his way out of it.
Asarov chases him as he tries to escape and then takes his back and hoists him up into the air and tries to bring him to the mat. Moreno turns and lands on top of Aksarov, but then Askarov quickly gets on top.
Now Askarov is working from the back again looking for a potential submission. Now Moreno attempting to scramble and he does get on top, but Askren is immediately looking for a triangle choke.
Moreno eventually escapes and is now on top, but Askren is staying busy with elbows from the bottom. Moreno now posturing up and landing some hard punches down on his opponent.
Askarov using his legs to keep him at bay somewhat and eventually works to his feet. However, Moreno lands a good punch and Askarov is on wobbly legs for a moment. Moreno steps in with more punches, but Askarov regains his bearings and starts to throw back hard.
Moreno slows his pace down for now. Askarov literally chasing after Moreno around the outside of the cage now trying to land punches as the round ends.
Round two:
Front kick to the body from Askarov. Both men swinging heavy leather here and having to show good chins. Askrov able to get a takedown close to the cage though. Moreno attempting to scramble, but nothing doing for now. He gives his back as he tries to stand and is kept down.
Soon after they do get back upright and are right back to striking. Moreno lands a good uppercut, but Askarov takes his back against the cage. Moreno trying to turn, but then Askarov lands another big takedown.
Askarov posturing up and tries to land some hammerfists. Moreno goes for a footsweep and knocks Askarov off-balance enough to stand back up.
Askarov soon back in on him though against the cage, working to his back again. This time Askarov sweeps his legs to bring him down.
Moreno back up and swinging hard at Askarov. Askarov with a spinning backfist attempt. Uppercut in the clinch from Moreno. Another clinch and Askarov lands a knee to the midsection.
They break and start trading, with Askarov landing a good right. Punch lands nicely for Moreno. Moreno misses with a punch but then responds with a kick and Askarov ducks into it and looks hurt. He manages to work for a takedown.
However, Moreno doesn't go quite to the mat and is almost in an upside down triangle choke position here as the final seconds of the round tick over.
Round Three:
The two fighters hug to start the round. Hard right hand for Moreno. Askarov tries to clinch, but it's Moreno who manages to throw him to the mat and gets on top.
Askarov working elbows from his back here. Askarov trying for an omaplata but Moreno escapes and lands a good punch. Askarov still fishing his legs up looking for a submission, but eats a punch.
Askarov keeping Moreno mostly at bay with his legs and trying to land strikes from his back. Moreno postures and drops in with a punch.
Askarov still busy as he looks for a submission, but Moreno not allowing him to get anything done for now. Askarov tries for an armbar, but Moreno escapes.
Elbows again for Askarov. Askarov tries to scramble, but Moreno takes his back and drops back looking for a rear-naked choke.
He's starting to get that arm under the chin, but Askarov is able to defend and survives thhat attempt. A little more than a minute remaining and Moreno has some real momentum here.
Askarov attempts to turn into him, but can't quite do it. Moreno happy to keep him here for now with the body triangle locked in.
Askarov trying to wall walk now in the final minute, but still trapped. 12 seconds left and Askarov finally manages to turn into him. However, he seems to have nothing left for a final offensive salvo and just secures top position to end the round.
Decision:
Really good fight here then, with both men having their moments, and though Moreno dominated the third round it wasn't enough to earn him the win as the judges return a split draw verdict!