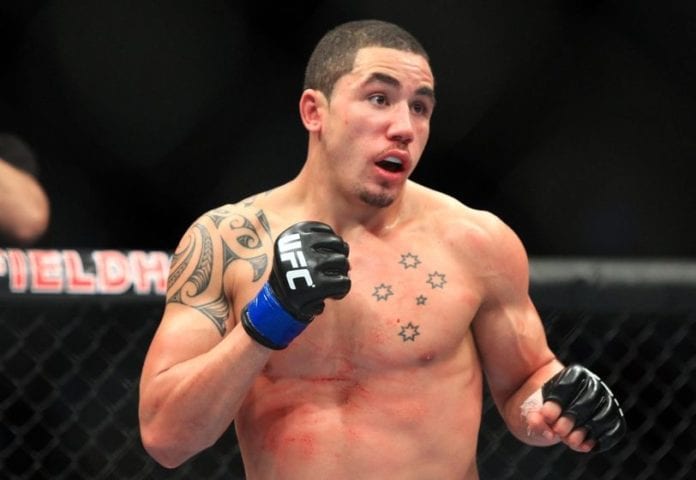 Robert Whittaker looked in fine form tonight as he earned a hard fought unanimous decision victory over Jared Cannonier in the co-main event of UFC 254.
Round One:
Solid low leg kick from Cannonier to start as Whittaker was trying to land a jab. Inside leg kick for Whittaker. Now a jab. Leg kick from Whittaker, but Cannonier knocks him off his feet with his own leg kick.
Whittaker strikes nicely to the body. He tries to go higher with another kick, but it's blocked. Jab for Whittaker. He misses with a head kick. Cannonier tagging him with a series of outside leg kicks and they will take a toll if he doesn't start checking them.
Solid punch from Whittaker as Cannonier was trying to land again. whittaker knocks Cannonier back with a punch. Whittaker threatening with a head kick that's blocked. Now a solid leg kick as he really starts to find his groove.
Another punch from Whittaker but holds off on the kick after it. Another crisp jab from the former champ. Low leg kick for Cannonier. Nice head movement from Cannonier to avoid a punch.
Cannonier going back to the leg kicks and Whittaker's lead leg is very red already. Inside leg kick from Whittaker now. He misses on a hook. Front kick to the body from Whittaker as Cannonier lands a punch.
Punches don't land for Whittaker, but then the right head kick behind it threatens, but is blocked. Hard body kick from Cannonier. Whittaker with a punch and then one final kick from Cannonier brings the round to a close.
Round Two:
Right hand from Whittaker. Leg kick from Cannonier as Whittaker is working the jab. Hook from Cannonier comes off the chest. Leg kick lands.
Stepping jab for the former champ. Front kick to the body from Cannonier. Whittaker immediately responds with a right head kick that's blocked.
Head kick attempt from Cannonier now is just blocked in time. Whittaker tries the double jab. Hard outside leg kick from Cannonier. It lands again.
Grazing right hand from Whittaker. Then he lands another more cleanly. Nice jab. More of a grazing outside leg kick this time from Cannonier.
Whittaker with a punch, but Cannonier with a good counter punch. Whittaker back to the jab. Now a front kick to the body. leg kick for Cannonier. A few punches from Whittaker. Cannonier got one punch in return there.
Swift jab from Whittaker. Now a straight right. Cannonier continuing to feed him leg kicks. Jab and then a body punch from Cannonier.
Another crisp stepping jab from Whittaker. Heavy low kick for Cannonier. Another jab for Whittaker and then into a takedown attempt, but Cannonier got straight back up from that.
Body kick for Cannonier. Now the leg kick again. Cannonier shoving Whittaker away from him and then lands the leg kick again. Whittaker works the jab. Right hand lands cleanly. He's doing well mobility wise considering how many leg kicks he's taken here.
Big right hand from Whittaker. and that's the final action of the round.
Round Three:
Whittaker with an immediate right hand and a left behind it. Another jab for him. Front kick to the body from Whittaker. Leg kick for Cannonier.
Meaty jab for Whittaker. Left and a right from Whittaker and then a head kick behind it. Great work from Whittaker and Cannonier wobbles backwards on unsteady legs as Whittaker wades in throwing more strikes.
Cannonier goes down but he seems to have his bearings enough to defend for now. Whittaker settling on top and manages to move to half-guard and then goes to full-mount.
Cannonier gives up his back and then tries to scramble, but Whittaker stays on his back. Cannonier has a bad cut to the face, but he's not quitting and manages to scramble to his feet and presses Whittaker up against the cage.
Cannonier with a few punches to the body and then knees to the inner thigh. Two minutes left and they separate.
Head kick attempt from Cannonier misses. Whittaker settles back into his jab. Lunging jab there. Cannonier tries for a kick and eats another jab.
Every time Cannonier comes forward he's getting pegged by the jab. To his credit Cannonier does land a good body kick though.
Cannonier with a straight punch and Whittaker's legs stiffen. He's hurt, but Cannonier doesn't make him pay. Whittaker able to clinch up against the cage.
Cannonier threatens with a knee. Cannonier presses him back up to the cage again and rides out the remaining seconds of the fight.
Decision:
Great fight then with both fighters having their moments, but overall it was Whittaker who looked very crisp with his striking and almost had Cannonier finished in the third round, leading him to a unanimous decision victory (29-28 x3).