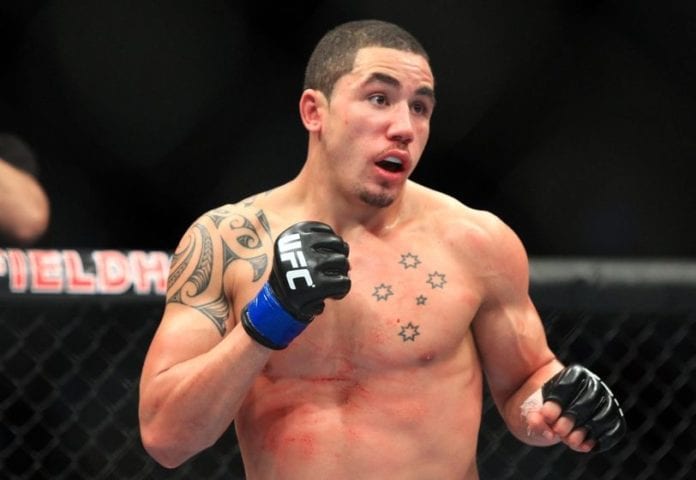 Robert Whittaker is the UFC's new interim middleweight champion after defeating Yoel Romero by unanimous decision tonight at UFC 213.
Round One:
The main event interim middleweight title fight is underway in Las Vegas!
Whittaker reaching for a front kick, but doesn't find the target. He goes upstiars with a head kick that's blocked. Romero with one too that doesn't find the mark.
Whittaker bursts forward with a right hand, but from too far out to land. Whittaker looking for a punch, but a kick from Romero at the same time knocks him off-balance momentarily.
push kick to the body for Whittaker. Jab for Whittaker as Romero also lands a kick. Romero coming close with a hook kick attempt.
Romero with a takedown, but Whittaker immediately back up and then gets away from his opponent's clinch.
Romero with a flying knee to the head, but doesn't quite connect cleanly. Romero now into the takedown attempt, but Whittaker defends very well.
Romero settles for the clinch against the cage, but he's not doing anything with it and Whittaker is able to neatly spin out and get back to striking range.
Leg kick for Romero. Right hand for Whittaker as he lunges in. Push kick for Whittaker sends Romero backwards.
Another push kick for 'The Reaper'. Romero bursts into a takedown, but Whittaker defends that well. Kick upstairs from Whittaker just glances Romero's head.
Round Two:
In-between rounds Whittaker stated that "my left leg is f*cked," so that could prove to be a huge factor in this fight. A highlight shows it was an oblique kick from Romero that did it.
Big head kick attempt from Whittaker. Romero leaps into a left hand. Push kick for Whittaker. Romero ducks under a punch and lands a takedown in the center of the cage.
Romero with short, cuffing strikes to Whittaker's head in his guard. Whittaker just locking down hoping for a stand-up here.
Romero attempts to pass, but nothing doing for now. Whittaker attempts a sweep, but Romero gets his back. Whittaker stands and Romero is still clinched to his back.
Whittaker moves over to the cage and partially gets his cage against it. Romero takes his time and eventually tries to bring Whittaker down, but he stands right back up.
Still in the clinch Romero is continuing to press Whittaker against the cage. Not much happening though and the ref seperates them.
Kick and a punch from Whittaker. Both men exchange in close and then Romero is back into the clinch against the cage in the final 30 seconds of the round.
Romero with a nice trip takedown just before the horn sounds.
Round Three:
Front kick to the body from Whittaker. He tries one upstairs now, but doesn't land. Now he lands a jab. Whittaker misses on a push kick and the ref stops the fight for a brief moment to get some tape cut off Romero's glove.
Back to it they go. Romero trying to reach for a takedown but nothing doing this time. Whittaker lands in close and Romero didn't like that. Whittaker continuing to pressure and lands again and Romero stumbles and has to back out of danger.
Push kick from Whittaker and then just misses with a punch behind it. Body kick for Romero. Push kick to the leg that time from Whittaker. He goes upstairs with a head kick that's blocked.
Whittaker applying some nice pressure this round and his leg doesn't appear to be hindering him as much as was feared earlier in the fight.
Jab for Whittaker and then stuffs a takedown nicely. Whittaker with a left hook. Now he steps in with a knee to the body. Romero not offering much in response at the moment.
Whittaker steps into another quick combo, but doesn't quite land clean. Side kick to the body from 'The Reaper'.
Whittaker closes the distance and lands a punch to the body. He tries to come in again in the finale 10 seconds and Romero keeps him at bay with a kick.
Whittaker continues forward anyway and lands a nice left hand to the head to end the round. Romero not offering much in that round, but is he just conserving energy for the championship rounds or is he gassing out?
Round Four:
Push kick for Whittaker to start. He's staying light on his feet. He lands a big body kick that knocks Romero off-balance slightly.
Romero suddenly bursts forward and is able to spin around to get the back clinch. Whittaker staying on his feet and gets over to the cage and partially puts his back to the cage as he did earlier in the fight.
Plenty of pressure from Romero here and Whittaker is on one knee as he continues to defend this. Whittaker able to escape and get back to striking range.
Jab for Whittaker and then a takedown attempt from Romero that's stuffed.
Body punch for Whittaker as Romero fires off a knee simultaneously. Body kick from Whittaker and a left hand upstairs to follow. Nicely done.
Now a push kick from Whittaker. He just misses with an uppercut. Back to the push kick. Romero looking for a kick, but Whittaker lands a right hand instead.
Romero trying for the takedown, but it's stuffed again. Looks like Whittaker clipped Romero with a right and he drops down trying for a takedown.
Whittaker away from that and hurts Romero again with a punch. Romero working hard for the takedown, barreling across the Octagon trying to stick it, but Whittaker defends it well. Crucial moments here and Romero is now breathing heavily.
Romero with a final takedown attempt that Whittaker is in the process of stuffing as the round ends.
Round Five:
This is a huge round as this may well be very close on the scorecards up to this point.
Whittaker with a right hand. Romero tries a head kick that doesn't connect but a punch does land. Whittaker with a jab. Romero just ducks under a head kick attempt.
Good knee for Whittaker and now a punch that seems to hurt Romero. Tense moments. Whittaker lands another punch.
Head kick attempt from Romero is blocked. Both men feeling the pace now, but there's all to fight for. Front kick to the body for Whittaker.
Whittaker with a high kick and he stumbles on that and almost falls to the mat.
Left hook for Whittaker. Romero is motioning him forward. Left hook for Romero. Romero has blood smeared across the right side of his head.
Whittaker landing the kick to the body to the already tired Romero. Right hand for Whittaker. Now a punch for Romero grazes him.
Body kick for Romero. Right hand from Whittaker and Romero stumbles to the mat. Not sure if that was partially just a slip, but either way Whittaker will take that and is now working inside Romero's guard.
Elbow from Whittaker. 30 seconds remaining. Whittaker passes and gets to half guard. Whittaker blasts down some big elbows and now Romero is bleeding even more. Romero trying to scramble, but WHittaker keeps on top until the final horn.
Decision:
Exciting stuff there and Whittaker showed great heart to deal with an early leg injury and then begin to turn the screw as the fight progressed and his opponent started to slow down offensively. Was that enough though? It's down to the judges to decide.
They do indeed – Robert Whittaker is declared the winner by unanimous decision (48-47) and as such is now the UFC's new interim middleweight champion, setting up a fight with the 185lb champ Michael Bisping to unify the belt.