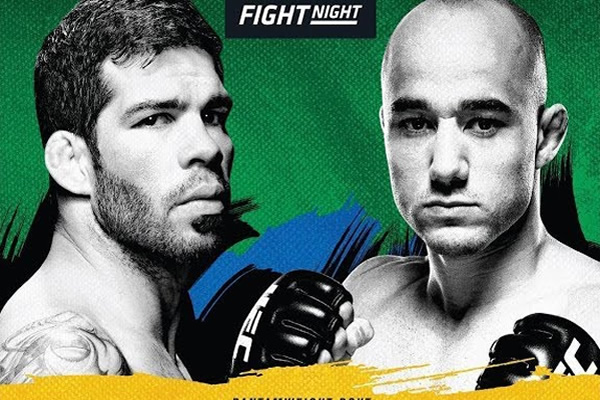 UFC On ESPN+ 2 takes place this coming Saturday night in Brazil and we've got our predictions for all the fights for you below.
Main Card (ESPN+)
Raphael Assuncao vs. Marlon Moraes
This fight could well end up being just as close as the first time these two fought, with Assuncao coming out on top via split decision on that occasion back in 2017.
Both fighters have been in fine form since, though Moraes has had the more spectacular performances, claming back-to-back first round knockout victories.
Moraes is a proven finisher and his knockout power and explosive outbursts could change the outcome of the fight, but it will be hard to catch Assuncao off-guard as he's very sound defensively and works well off the counter.
As such I think Assuncao will again edge out Moraes on the scorecards with his more measured approach and well-rounded skills, but this one really is on a knife-edge.
Raphael Assuncao wins by decision.
—
Jose Aldo vs. Renato Moicano
This is an interesting test for both men at this stage in their careers.  Aldo got back on track with a win over Jeremy Stephens last time out, but he has been stopped due to strikes three times in his last five fights (albeit against elite competition) and is still talking about retiring at the end of the year.
Meanwhile, Moicano has impressed so far in his 5-1 run in the UFC, but it remains to be seen how he'll handle someone with Aldo's striking acumen.
So far Moicano has acquitted himself well on the feet though and operates intelligently from range –  and he'll be enjoying both a height and reach advantage against Aldo to aid him in that regard.
Moicano also has a strong ground game with dangerous submissions, but Aldo is a well-rounded, savvy veteran who won't be phased by that.
Aldo could well get the better of this one, but Moicano is the younger, fresher, hungrier fighter right now and I think he'll also last the pace better en-route to his biggest win to date on the scorecards.
Renato Moicano wins by decision.
—
Demian Maia vs. Lyman Good
Maia's last three fights have shown that he struggles greatly when he can't get fights to the mat, but in all fairness he's been going up against the best the division has to offer, and elite wrestlers at that.
Good is no pushover, but he's not on that same level.  He could give Maia problems if he looks to stand and trade with him too long as he is heavy-handed, butt I don't think he's going to be able to fend off his takedown attempts in the way that those others did.
That leaves Good in a tough spot as when Maia does eventually get the fight to the floor his world class BJJ is going to have him in all kinds of trouble, resulting in a second round submission tapout.
Demian Maia wins by submission In Rd2.
—
Charles Oliveira vs. David Teymur
Teymur is a prospect on the rise, but he's not faced anyone quite like Oliveira yet in his five-fight undefeated stretch in the UFC so far.
Teymur is a good kickboxer and if he can keep Oliveira engaged in the stand-up battle then he certainly has a chance to emerge victorious here as 'Do Bronx' is a capable striker, but would likely be outgunned here and can leave himself open to getting caught.
However, it's much more likely that Oliveira will be looking to take this fight to the mat, where he's proven to be one of the best submission finishers in the game, and his endless creativity and drive to find a finish should bare fruit here as he secures a first round tap-out victory.
Charles Oliveira wins by submission in Rd1.
—

Johnny Walker vs. Justin Ledet
Walker showed promise in his Octagon outing, a first round KO victory over Khalil Rountree and is now taking something of a sidestep rather than a move up the ladder to face Ledet.
Ledet is trying to make a go of it in the 205lb division after dropping down from heavyweight and size wise he's a decent match for the lanky Walker, only giving up 2 inches in height and reach to his 6ft 6″, 82″ reach opponent.
There's still questions to be answered about where Walker really fits into the light-heavyweight division, but I do think it's more likely that it's him that will emerge with his hand raised with a second round TKO stoppage thanks to his aggression and unpredictable arsenal of strikes.
Johnny Walker wins by TKO in Rd2.
—

Livia Renata Souza vs. Sarah Frota
Souza has shown a lot of promise in her career to date and appears to be settling into the UFC's strawweight division nicely, but Frota also looked like a notable prospect on Dana White's Contender Series and will be looking to upstage her Brazilian counterpart.
Frota should be the stronger of the two here and will be aggressive, but can leave herself open in the process, although to be fair the same could be said of Souza.
However, Souza looks to be the quicker fighter, has a decent amount of pop in her punches and like her opponent is also a threat on the mat with submissions. Overall Souza should be able to get the better of this one as long as she's not outmuscled, and while a tapout finish is a possibility, I'll go with a decision victory.
Livia Renata Souza wins by decision.
—
Prelims (ESPN+) (Predicted winners in bold)
Markus Perez vs. Anthony Hernandez
Thiago Alves vs. Max Griffin
Mara Romero Borella vs. Talia Santos
Junior Albini vs. Jairzinho Rozenstruik
Ricardo Ramos vs. Said Nurmagomedov
Rogério Bontorin vs. Magomed Bibulatov
Geraldo de Freitas vs. Felipe Colares