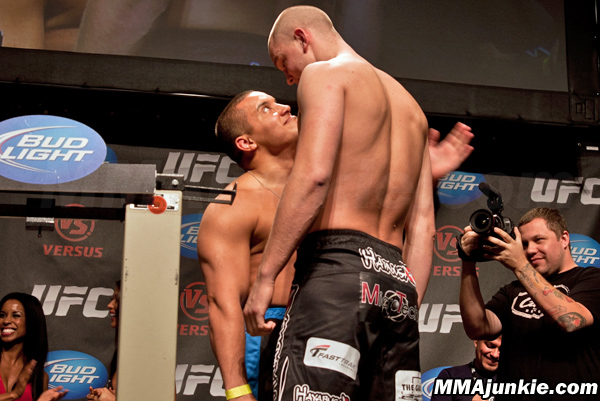 5. Pat Barry vs. Stefan Struve
While most of the stare downs on this list made the cut because there was bad blood between the two fighters, this stare down was selected because of the hilarious images that ensued following their stare down. Prior to their fight at UFC Live: Cruz vs. Johnson in 2011, 5 foot, 11 inch, Barry stood face to chest against the 7 foot, 1 inch, tall Struve. Always considered a heavyweight prospect, Struve would go on to win this fight via Triangle Armbar.

4. Quinton "Rampage" Jackson vs. Wanderlei Silva
Making this list for the second time is Quinton "Rampage" Jackson. This time, it was a stare down from his time in PRIDE, when he fought for the PRIDE Middleweight Championship against Wanderlei Silva. Before what ended up being the fight of the year took place, these two men took to the center of the ring in Saitama, Japan, and had one of the best stare downs in MMA history. With his typical angry expression, Jackson stood face-to-face with Silva and his typical smile and bounce. In the second round, "The Axe Murderer" would knock out Jackson to win the title, giving him his second straight victory against Rampage.