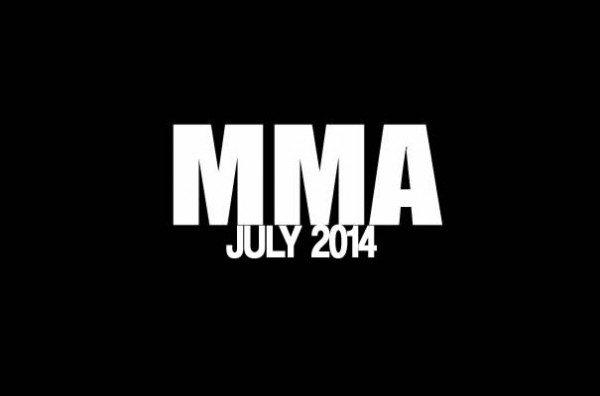 Wall to wall mixed martial arts action awaits us in July, so keep this guide to the best events of the month handy to ensure you don't miss any of the big fights.
—
Saturday, July 5th: WSOF 11: Gaethje Vs Newell
Where: Florida, United States
World Series Of Fighting make their debut on the main NBC channel this weekend, and wisely given that they are running on the same day as UFC 175, the event will actually air in the late afternoon starting at 4pm ET.
Fronting the show is a lightweight title fight that pits current champion Justin Gaethje against remarkable one-armed fighter Nick Newell, while Jon Fitch fights Dennis Hallman in the co-main event and Melvin Guillard makes his debut versus 'JZ' Cavalcante.
—
Saturday, July 5th: UFC 175: Weidman Vs Machida
Where: Las Vegas, United States
The centerpiece of the UFC's international fight week in Las Vegas is the UFC 175 pay-per-view event headlined by middleweight champion Chris Weidman who faces up against former light-heavyweight title holder Lyoto Machida.
Female bantamweight superstar Ronda Rousey also defends her title against Alexis Davis in the co-main event of the evening, while heavyweight Stefan Struve gets the all-clear to continue his fighting career after a heart issue against Matt Mitrione.
—
Sunday, July 6th: TUF 19 Finale: Edgar Vs Penn III
Where: Las Vegas, United States
24 hours later International Fight Week rounds off with a second UFC event in the same arena, this time for The Ultimate Fighter 19 Finale.
The showcase fight here brings the seasons coaches Frankie Edgar and BJ Penn together for a third time in the Octagon, though this will be their first encounter at featherweight, while the TUF finals will also feature on the card.
—
Friday, July 11: ONE FC 18: War Of Dragons
Where: Taiwan, China
ONE FC visit Taiwan for their eighth show with a featherweight main event pairing of Eric Kelly and Rob Lisita (read our interview with him here).
—
Wednesday, July 16th: UFC Fight Night 45: Cerrone Vs Miller
Where: New Jersey, United States
The UFC's long running Fight Night series continues in New Jersey on July 16th with a lightweight scrap between Donald Cerrone and Jim Miller topping the bill.
Meanwhile in the co-main event there's another quality lightweight encounter featuring Edson Barboza up against Evan Dunham, while the likes of Rick Story and John Lineker also feature on the main card.
—
Saturday, July 19th: UFC Fight Night 46: McGregor Vs Brandao
Where: Dublin, Ireland
On July 19th the UFC makes it's long awaited return to Ireland and for the occasion they've installed local hero Conor McGregor in the main event opposite former TUF winner Diego Brandao.
The sold-out event also features the unbeaten Gunnar Nelson versus Zak Cummings and a flyweight grudge match between Brad Pickett and Ian McCall.
—
Friday, July 25th: Bellator 122: Koreshkov Vs McDonough
Where: California, United States
Bellator's summer series of events continues and this will be the first event under former Strikeforce CEO Scott Coker's stewardship, though since he's barely got his feet under the desk there won't be much of his influence on the line-up for this show.
At the top of the line-up is a welterweight tournament final between Andrey Koreshkov and Adam McDonough and Brett Cooper takes on Brandon Halsey in the middleweight final, while grizzled veterans Karo Parisyan and Phil Baroni also fight on the main card.
—
Saturday, July 26th: UFC On FOX 12: Lawler Vs Brown
Where: San Jose, United States
Rounding off another busy month of MMA action is UFC On FOX 12 which features a swashbuckling welterweight title eliminator between Robbie Lawler and Matt Brown.
Anthony Johnson Vs Antonio Rogerio Nogueira, Clay Guida Vs Dennis Bermudez and Josh Thomson Vs Michael Johnson are also on tap for the main card on 'big' FOX.