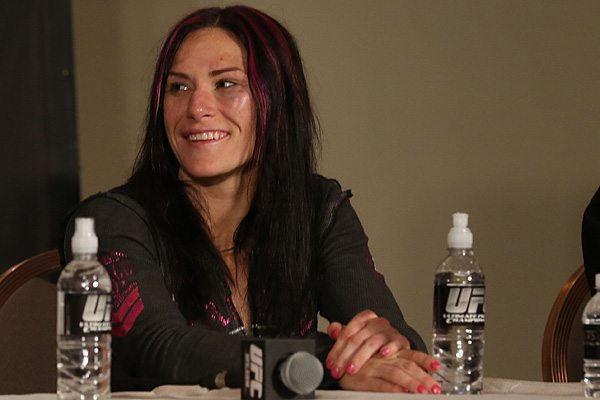 UFC bantamweight star Cat Zingano has claimed that her former Alliance MMA teammate Angela Magana was looking for trouble at the recent UFC Athlete Retreat in Las Vegas prior to her run-in with Cris 'Cyborg' Justino.
"That girl, all weekend, was trying to piss somebody off," Zingano said told MMAfighting.com. "I had to leave the night I got there the room I was in, because I was around my teammates and she was on Alliance before I ever got there. I had never met her. Now we're all in the same spot, same place, and they all know her really well but she kept taking shots at me — like digging at me, saying shit, to intentionally passive aggressively hurt my feelings.
"Eventually I was like, dude, all these people [from Alliance] know her and love her, and if I snap on her right now, I'm going to be the bad guy. I would rather not spend a minute with my team and just avoid making shit awkward, than one more second around this girl. I'll just go hang out with my old team. Everyone knows I get along with everyone, and nothing would be weird."
With that in mind Zingano said she was not surprised at all when Magana later get into a verbal altercation with 'Cyborg' that resulted in the Brazilian star punching her in the mouth.
Afterwards, Magana appeared to revel in the attention that the incident drew, stating that she was going to be pressing charges against 'Cyborg' and also planned to sue her.
A few days later Magana seemed to be playing up the extent of the injuries she'd suffered from the punch, but Zingano isn't buying it.
"The crazy part too is that she was partying after," Zagana recalled. "She was so hurt she has a mild concussion, or whatever, her tooth was loose — now all of a sudden Cris knocked her tooth out and she's sitting there saying she has this concussion, acute brain injury, whatever — but she was drinking, playing beer pong and dancing.
"It's like, go to your room and fake it. Don't fake it in the middle of everything."
A few days ago Alliance MMA owner Brandon Vera also made it clear he was skeptical about the extent of Magana's injuries as he released a statement announcing that due to her behavior the fighter was no longer welcome at his gym.
That appeared to catch Magana off-guard, and after having talked up a storm for the best part of a week, she suddenly vanished from social media, deleting her Instagram account in addition to staying off Twitter for the past three days.