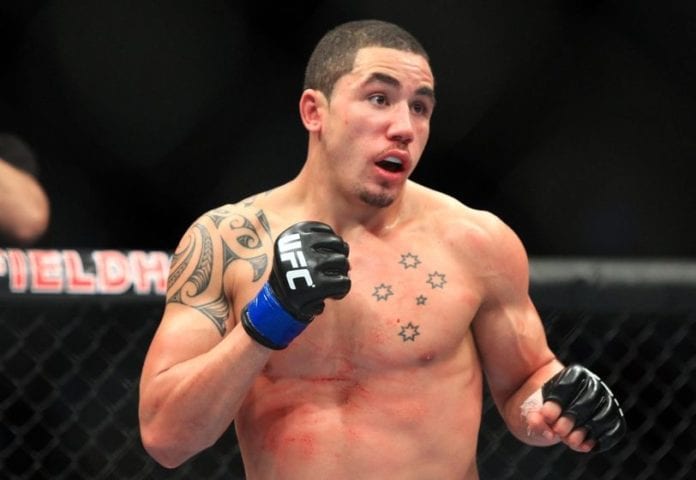 Australia's own Robert Whittaker outfought Uriah Hall tonight at UFC 193 in Melbourne en-route to a unanimous decision victory.
Round One:
Whittaker with an early kick and then charges forward with a short flurry of strikes. Another kick from him. He lands hard to the leg with a kick.
Hall pressing forward, but no offense yet. Whittaker explodes forward with a punch and it lands. Hall with a leg kick and then tries to go upstairs with it, but it's blocked. Whittaker looks to go at him, but is kept at bay with a push kick.
Whittaker with a body kick that's almost caught. Now he tries a superman punch. Hall thinks about the spinning kick, but pulls out of it.
Whittaker staying aggressive, but suddenly Hall spins and jump a couple of times then eventually unleashes a kick at the end of it which doesn't really connect. It looked exciting, but he's ended up off-balance and on his back as a result with Whittaker on top.
Now the Aussie improves his position and despite Hall's attempt to escape he gets to side control, then momentarily to full mount. Hall gets him right back to his guard, but Whittaker lands a strike as he moves back to side control. Almost into full mount again, but ends up taking Hall's back instead with a little over 30 seconds of the round remaining.
Hall manages spins around with 10 seconds remaining and ends up on top landing a big elbow as the round comes to a close.
Round Two:
Whittaker tries a one-two that doesn't find the mark. Hall with a couple of jumping knee attempts. Whittaker lands a leg kick. Hall swings and misses with a big punch that results in him reeling forward off-balance and enables Whittaker to take his back and press him to the cage, landing foot stomps and a few knees to the thigh before he gets away.
Back to the striking they go and Hall gets poked in the eye which results in a stoppage. Replays show Whittaker had a closed fist though so they get back to it.
Whittaker landing a couple of punches. Whittaker with a leg kick that Hall almost catches. He connects with another to the inside this time. Another leg kick for him as he remains the busier fighter. Now he lands with a right hand. Now a leg kick, while Hall looks threatening, but isn't letting his strikes go. Having said that Whittaker does have blood coming from his nose.
Suddenly Hall does land a powerful kick. He connects lighter to the leg now, and again with more impact. side kick from Whittaker and a leg kick shortly afterwards.
Knee stomp from Whittaker. Body kick from Hall. Whittaker misses with a punch, but then does connect with a hook. Spinning back kick from Hall aimed at the body, but it doesn't find the target.
Round Three:
Hall looking a bit more aggressive to start, but Whittaker lands a right hand. They exchange in close with both men connecting. Whittaker lands a big right hand and Hall looks hurt. Whittaker looks to land more strikes and then clinches up, spinning Hall around and taking his back.
Whittaker with footstomps and knees to the back of his opponents legs until Hall spins around. Whittaker pressing him agains tthe cage as Hall cuffs his head with punches. Big elbow from Whittaker as they separate.
Hall still pressing forward and lands a big kick to the head. Now a flying knee too and another head kick that's blocked. Hall's pouring it on as he needs to. He presses Whittaker to the cage now and lands a few knees.
Two minutes left. Hall may well need to find a finish here. He lands a front kick to the face and then a roundhouse to the head. Whittaker eats it though.
The two men exchange. Whittaker's face is streaked with blood. He lands a leg kick. Hall pulls out of a spinning kick attempt. Whittaker lands an overhand that sends Hall backwards, but he then motions Whittaker on and throws a one-two.
Final 30 seconds and Hall lands a right hand. Whittaker manages to latch onto his back again and footstomps. He opts to throw Hall to the mat, but he gets straight back up as the round comes to a close.
Round Three:
Hard-working performance from Whittaker, while Hall didn't really come to life until the final round which proved to be too little too late. Whittaker gets the unanimous decision victory (30-27 x2, 29-28).