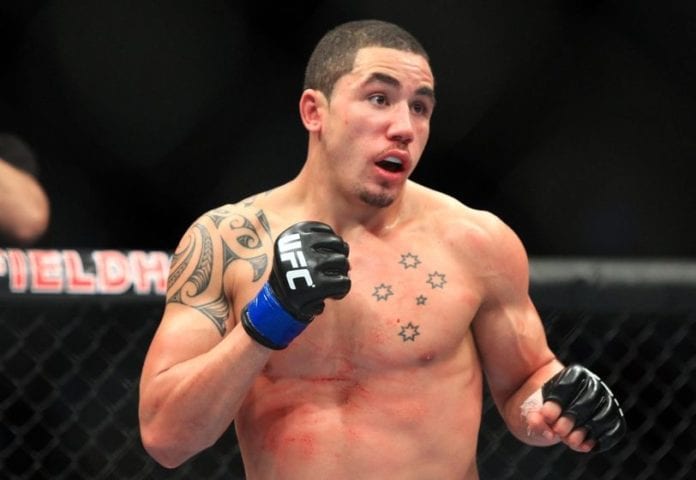 Robert Whittaker lit up Ronaldo 'Jacare' Souza on the feet in the second round of their fight at UFC On FOX 24 tonight, before finally securing a TKO stoppage with ground and pound to push himself into the title picture at 185lbs.
Round One:
Whittaker feinting and then stepping into a left hand. Jacare moving in close and throws a punch, before stumbling off-balance.
Front kick to the body for Jacare. Now Jacare tries a spinning kick, but it just grazes past the fast-moving Whittaker.
Jacare into the clinch now. He waits for his moment and then tries to take Whittaker down and a big scramble ensues. Whittaker tries to stand, but Jacare brings him right back down. Credit to Whittaker though, he manages to find a way back to his feet.
Whittaker closing the distance quickly with strikes and though nothing lands too cleanly he knocks Jacare off-balance to his butt, though he gets right back up.
Jacare misses with a hook as Whittaker comes in. However, his next right hook connects, and then another grazes.
Whittaker starting to work to the body with punches now. Right hand and then a quick left hand for him. Jacare looking for that big counter hook, but needs to be careful not to become too fixated with just that. Final punch combo lands for Whittaker as the round ends.
Round Two:
Whittaker's fast strikes are a problem for Jacare. Suddenly he lands a big right hook and it floors Jacare!
Jacare able to survive as Whittaker tries to finish him on the mat. Back on his feet now, but Whittaker lands a hard uppercut and the Brazilian seems on slightly wobbly legs now.
Head kick attempt for Whittaker now and Jacare can't take too much more of this. He's hanging in there, but at the moment he's not offering anything to regain his opponent's respect. He gets clipped again with a hook, but he remains standing.
Jacare could do with a takedown, but for now he looks like he's just trying to fight through the fog. Unfortunately for him Whittaker isn't giving him time to recollect himself and lands another punch that highlights that the Brazilian is still not stable on his feet.
Suddenly Whittaker goes upstairs with a big head kick and that sends Jacare reeling, with punches following to put him back down to the canvas. This time Whittaker goes all out for the finish, pouring down vicious ground and pound punches and elbows that draw blood.
The referee is right on top of the action here, but puzzlingly it's only when Jacare rolls to his knee and looks to stand that he decides to end the fight, giving Whittaker a huge TKO win at 3.28mins of Rd2.
That's just the kind of high-profile win Whittaker needed to take his career to the next level, while Jacare's title push is put on ice.