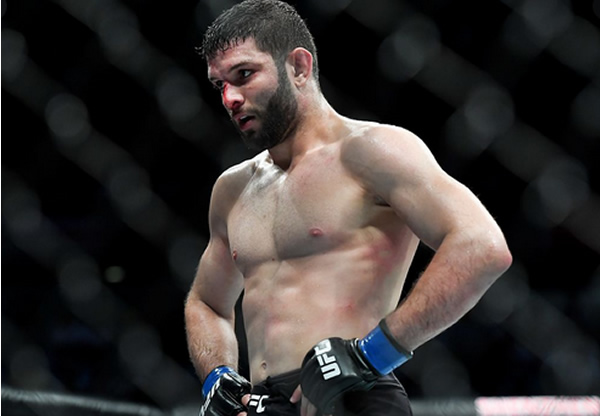 Thiago Moises used his striking more than expected on his way to a unanimous decision victory over Bobby Green tonight at UFC Fight Night 181.
Round One:
Early high kick from Moises and then one to the leg. He lands another as Green looks to check it.
Green presses forward trying to land a punch that misses. Moises with another quick head kick attempt. Again he goes for that, but it's blocked.
Now Green is backing him up and lands a leg kick. Green steps back to evade a punch. Body punch from Green. He lands a left, but then has to duck under a counter.
Green gets clipped by a punch as he moves forward. Now Moises looking for a takedown against the cage and hoists Green into the air and sticks the landing.
Green able to scramble on top. Moises looking to get into an advantageous position and Green goes for a guillotine choke. Moises stands up without issue though and they go back to striking range.
Nice straight left from Green. Oblique kick from him. Now a right hand gets through. Front kick to the body from Moises.
Body punches from Moises. Leg kick from him, but it's blocked. Moises lands a punch and Green thinks it was an eyepoke, but is told to keep fighting. Moises follows up with a couple more punches as Green tries to get his head back in the game.
Green with a front kick to the body. He lands a punch. Now an oblique kick. He lands another punch as he starts to pick up the pace. Moises with a punch of his own to the head as the round ends.
Round Two:
Jab for Green. Moises tries for a big hook that just misses. Green tries for a body punch, but Moises returns fire and lands a knee in there.
Moises threatens again with strikes. Green with a front kick to the body. Now into a takedown attempt and does well to get him to the mat. Moises quickly back to his feet and then swivels around to take Green's back.
Moises drops down working on a leg lock here. Green having to work hard to try to escape this submission attempt against the BJJ ace. It takes him a while as he works his submission defense and then he is able to get free and stand back up.
Green taking the center of the Octagon now as Moises starts to slow down a bit. Green with a couple of hard left hands. Moises tries to counter but doesn't connect.
Right hand for Moises. He comes forward with a kick too. Kick to the knee and then a punch upstairs from Green.
Body punch from Green. Leg kick for Moises. Spinning back kick from Moises misses. Body punch from Green.
Jab and then a front kick to the body for Green. Moises still threatening with punches here, but not always hitting the mark. Green seems fired up towards the end of the round as he goes for some acrobatic kicks.
Round Three:
One-two for Green. Push kick to the body. Leg kick but Moises fires off a counter hook. Inside leg kick from Moises.
Olbique kick from Green. He works a body punch too and then gets his head out of the way to avoid the counters.
Leg kicks from Moises. Hook from Green. Another oblique kick for Green. Inside leg kick again for Moises.
left hand for Green. Push kick to maintain distance and break Moises rhythm. Spinning kick from Moises just misses.
Right hand for Green and Moises lands a counter right. Body punch for Green. Solid right hand for Moises again.
Moises misses with another head kick attempt. Green into a clinch position and then brings Moises down to his knees. 90 seconds remaining as they jockey for position against the cage. Now it's Moises working on a takedown attempt. Green tries to drop down working a kimura attempt, but it doesn't pay off and now Moises is on top. Green on his knees though and looking to stand.
Moises works around to Green's back. 30 seconds remaining as Green does manage to work back to his feet. Moises throwing hooks and missing. He's the more energetic here though. Left hand lands. Final glancing blow from Green and this one is headed to the scorecards.
Decision:
Close fight then, with Moises showing improved striking and a willingness to trade. Green was also willing to mix things up by working for the occasional takedown, but Moises was comfortable there and in the end it's the Brazilian who emerges with a unanimous decision victory (29-28 x3).