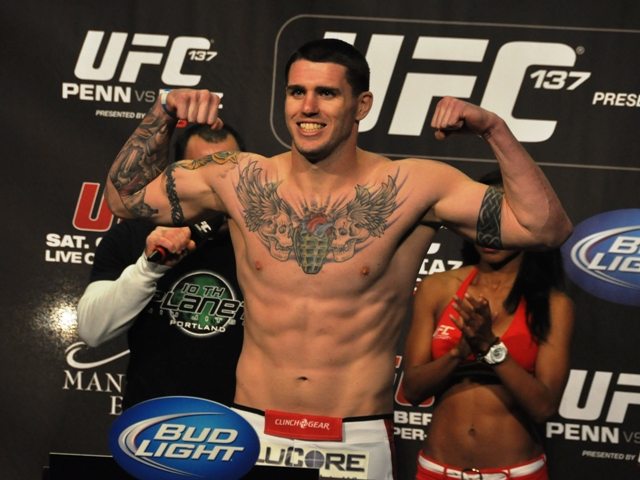 Chris Camozzi was able to outstrike and outwrestle Vitor Miranda for most of their fight tonight at UFC Fight Night 88 en-route to a unanimous decision victory.
Round One:
Low leg kicks for Caomzzi in the opening minute of the first round. When Miranda finally responds with one of his own it lands heavier.
Punches down the pipe for Camozzi that backs his opponent up. Leg kick for Miranda. Another rush in and flurry from Camozzi proves to be effective.
Series of jabs for Camozzi. Miranda responds with a kick and then catches a kick in return and manufactures it into a takedown attempt.
Camozzi immediately threatens with a heel hook attempt and that leads to an awkward and largely uneventful stand-off on the mat for the rest of the round, though Camozzi did open up a cut to his opponent's head with a ground strike.
Round Two:
Leg kick for Miranda. And again. And a third time. On the fourth attempt Miranda responds with an uppercut.
Camozzi presses forwar with straight punches, but not too much connecting on this occasion. The reset and Camozzi lands a straight right.
Miranda with a couple of kicks, one upstairs. Camozzi catches a kick, sweeps Miranda's other leg and takes him to the mat. He's working from half guard, but Miranda goes to full guard.
Not much happening, then a scramble that results in Camozzi staying on top of Miranda as he turtles up close to the cage. Miranda gets his back to the cage and tries to work back upright, but Camozzi stays heavy on him and ventually put him flat on his back again.
Camozzi from half guard and starts landing some punches and elbow that leave Miranda's face bloodied as the round comes to a close.
Round Three:
Miranda looking to get a bit more aggressive in the third. He lands a kick. Camozzi with a straight punch.
Camozzi able to pivot around Miranda and seize his back and takes him to the mat. Camozzi gets to side control. He stays patient, but Miranda is able to get back to butterfly guard, then uses the cage to stand back up.
Miranda's face soaked with blood, but he throws up some tired looking high kicks. A couple of jabs land for Camozzi and a head kick from Miranda partially gets through.
Camozzi back to the clinch against the cage. Miranda lands a good knee to the head and then when he separates he again partially connects with a head kick.
Leg kick for Miranda. Solid right from Camozzi. Another right makes Miranda wince. Hard leg kick for Miranda, then to the body.
Spinning head kick attempt from Miranda, but it misses the target. Camozzi with a solid left. Nice punch for Miranda. Leg kick for Miranda. Tries for that spinning head kick again, and again it's wide of the mark.
Decision: