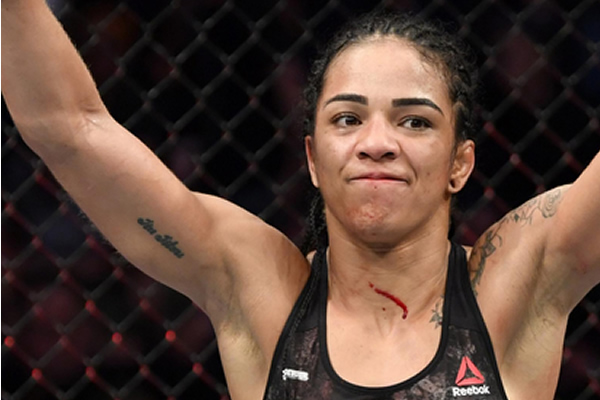 Viviane Araujo wasn't able to put away the tough Roxanne Modafferi tonight at UFC On ESPN 20, but nonetheless she did completely outclass her on the feet and handled herself well on the mat to earn a unanimous decision win.
Round One:
Body punch for Araujo as they exchange for the first time. Now a right hook for her. Straight right from Araujo. She's much faster than Modaferri, that's obvious already.
Left hand for Araujo. Right gets through now. Crisp uppercut lands. Back to the body with two punches now. Straight left. Modafferi not really landing anything meaningful in return. She needs to bring this fight to the mat sooner than later.
Uppercut unleashed again from Araujo. Clean punch from Araujo drops Modafferi just momentarily. Straight left for Araujo. She's just light years faster than Modafferi.
Modafferi throwing punches but not landing them. Right hook from Araujo. Now a left hook. Straight left. Finally Modafferi ducks into a body lock and works for a takedown against the cage. she's trying hard for it, but Araujo is able to move behind her and takes the back, then sinks in a rear-naked choke attempt.
Modafferi in some danger her as she tries to ride out the final 15 seconds of this round in a precarious position, and she manages to do that. She's got a lot of work to do to get back into this fight though.
Round Two:
Straight right for Araujo. Uppercut attempt. She lands a jab as Modafferi was attempting one of her own. She gets through with a reaching left hand. Another jab connects. Modafferi is getting picked apart.
Missed spinning backfist from Modafferi. She does land a punch afterwards though. Modafferi trying for a takedown, but Araujo defends that easily. Modafferi has to get back off her knees and then out of the clinch.
Jab for Araujo. Modafferi throwing but not connecting. leg kicks to the outside and inside from Modafferi. Jabs from Araujo as Modafferi lets her hands go more frequently. Right hand does get through for her though and then tries to rush Araujo for a takedown attempt that doesn't pay off.
A lot of missed punches right now, but then a jab and a fast takedown from Araujo. Modafferi now has a cut to the right of her eye. Araujo in side control and tries to rough up Modafferi in the final seconds of the round.
Round Three:
Modafferi trying to pressure again, but getting caught by punches at times by Araujo, who is picking her shots rather than just throwing hands randomly.
Credit to Modafferi for her toughness though as there's no quit in her. Modafferi with a takedown, but Araujo is straight back up. Modaferri trying to work another and presses her over to the cage. Araujo fighting off this attempt and then is able to land her own takedown from the clinch.
Modafferi trying for a kimura, but Araujo transitions to the back. However, she comes off and they go back to striking range.
Nice three-piece punch combo from Modafferi. She marches forward trying to land more punches. Jabs for Arajuo now.
Modafferi continuing to press the action. She tries to get into the clinch again, but Araujo easily reverses her into the clinch and lands a left hand on the way back out.
Araujo lands a nice takedown in the center of the Octagon. Araujo in her full guard. 40 seconds to go. Modafferi almost set up an armbar attempt, but nothing doing. She's trying hard to get something going, but Araujo passed to half-guard and then almost immediately continues to side control. Araujo trying to land some last strikes before the fight ends.
Decision:
Araujo completely dominated the striking action here and also had some solid moments in the grappling too on her way to a unanimous decision victory ().