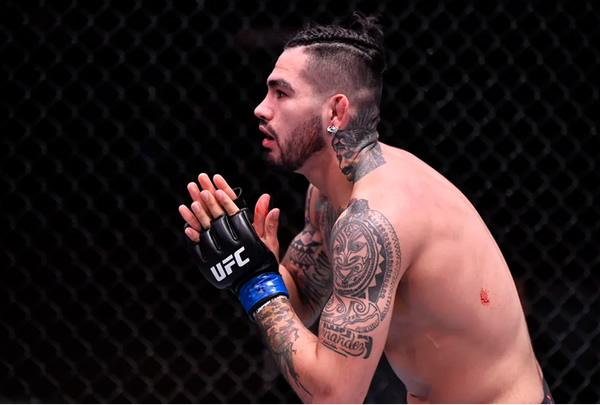 Anthony Hernandez applied relentless pressure to gradually break down Edmen Shahbazyan tonight at UFC Fight Night 224, leading to a third round TKO stoppage.
h4>Round One:
Hernandez with a low kick to start. Hard jab from Shahbazyan seems to stun Hernandez for a moment. He follows up with a few strikes.
Hernandez reaching in for a takedown attempt, but Shahbazyan steps out the way. Shahbazyan firing off punches with some real heat behind them.
Hernandez in on a takedown attempt against the cage now. Shahbazyan defending and tries to work for a takedown of his own. Hernandez drops down looking for a guillotine choke, but doesn't get it and they go back upright.
Heavy kick from Shahbazyan. Hernandez in on another takedown against the cage. He defends one attempt and then Hernandez drives into another one that Shahbazyan also manages to stay upright from.
Shahbazyan able to get a standing guillotine and drops down to the mat on top with it, then lets go. They scramble and now Shahbazyan is on his back looking for a potential armbar. He doesn't get it and now it's Hernandez going for a choke.
More scrambling action and Shahbazyan looks to get up, but Hernandez immediately working for another takedown as he pushes a grueling pace here. Hernandez starting to wear down Shahbazyan a bit here late in the round with his work on the mat.
Round Two:
Leg kick for Hernandez and then straight back into another takedown attempt against the cage and lands it. Hernandez working for a choke, but Shahbazyan battles his way back to his feet.
Hernandez with a big elbow in close. He looks to close the distance again and Shahbazyan lands a knee to the body. Hernandez trying to work a takedown, but then they jockey for position against the cage and Shahbazyan attempts a takedown. Hernandez able to get him down instead though.
Hernandez almost into full mount, but it's a cramped position up against the cage and so he stands over him and looks to strike. Shahbazyan working back to his feet and Hernandez brings him back down.
Shahbazyan stands again and then is back to one knee as Hernandez continues to apply constant grinding pressure.
Shahbazyan giving up his back now. Hernandez working in a guillotine and moves to mount with it. He continues to shift position as he tries to get this choke, but Shahbazyan escapes it. Hernandez still in control though and tries to get the choke in again.
Shahbazyan avoids that for now, but it's not long before Hernandez is again going for that guillotine choke. Shahbazyan defends it well again and so Hernandez ends up in his guard looking for some ground and pound instead.
Hernandez passes to half-guard and lands elbows to the head and body to end the round. Heading back to his corner Shahbazyan tells his corner he has a broken rib.
Round Three:
Head kick attempt from Hernandez is blocked. Now Hernandez is in on a takedown and hoists Shahbazyan up and dumps him to the mat.
Shahbazyan looking for ground-and-pound. Shahbazyan bleeding now as Hernandez takes his back and lands more hard elbows, and that's it, the ref steps in and Hernandez claims a TKO victory at 1.01mins of the final round.