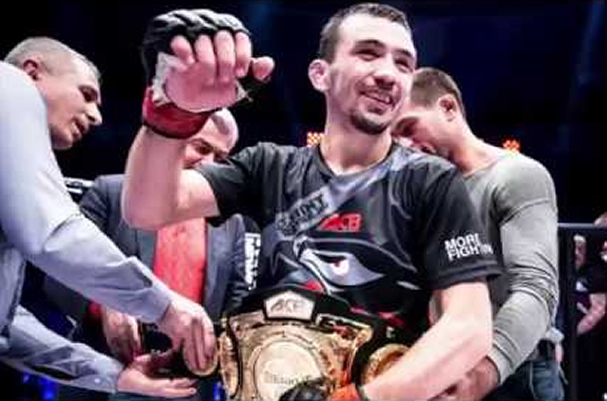 Askar Askarov used his wrestling and endurance to outpoint Alexandre Pantoja on the scorecards tonight at UFC On ESPN+ 30 on Fight Island.
Round One:
Nice superman punch for Pantoja to start and that knocks Askarov off-balance and Pantoja tries for a guillotine choke submission. That doesn't pay off, but he then goes for an arm-triangle. That also fails so he switches to an armbar, but Askarov is remaining calm and doing a good job of steering away from the danger.
Now Pantoja is attempting for a heel hook as he continues to remain extremely offensive from his back.
Back upright they go, but Askarov keeps Pantoja pressed up against the cage. Askarov brings him down again, but it doesn't take Pantoja long to stand again.
Again Askarov looking for the takedown and gets him down partially, but he's having a hard time keeping him there. That won't stop him going to the mat again, and again Pantoja is quickly back up.
Askarov works a single-leg and again it's a partial takedown that Pantoja then stands up from. The next time he goes for the takedown Pantoja is able to scramble slickly and takes Askarov's back.
Final minute of the round and Pantoja is trying to sink in a rear-naked choke. Askarov defending for now and trying to turn into his opponent, but Pantoja's body triangle is tight and this position is where the round ends.
Round Two:
Pantoja fakes a leg kick. They jockey for position against the cage and then go back to striking range. Inside leg kick for Askarov.
Right hand gets through for Pantoja. Hard inside leg kick from Askarov. Hard body kick from Pantoja, but Askarov catches it and tries for the takedown. Pantoja does well to keep upright and they go back to striking.
Leg kick for Pantoja, but Askarov counters nicely with a left hgand. Solid body punch for Pantoja. He rips again to the body.
Askarov takes Pantoja down in the center of the Octagon. Pantoja rolls to his knees and stands, but Asksarov drives him into the cage and starts work on his next takedown attempt.
Askarov hoists Pantoja up high and brings him to the mat. he still can't keep Pantoja down though and he's soon back up and having to fight off yet another takedown, which he does do for now.
Pantoja turns ASkarov into the cage now, but Askarov turns him and they go back to striking. Nice punch for Pantoja, but then Askarov lands one of own and drives into the takedown.
Askarov settling for thee cage clinch now and then works a single-leg and brings him down. Another technical scramble and Pantoja ends up on Askarov's back while his opponent is on his knees. Good work from him.
Only 10 seconds of the round left and Pantoja is looking for a possible submission, but slips to his back as the round is ending.
Round Three:
Inside leg kick from Askarov. Body punch from Pantoja as he charges forward. Body kick from Pantoja and then a straight punch. Askarov lands a counter punch and tries for a takedown, but doesn't get it.
Left hand connects for Askarov. Now a leg kick, but a counter punch from Pantoja knocks him to the mat. Pantoja gets on top, but Askarov kicks him away and stands back up.
Pantoja still pressing forward despite being tired and lands a punc to the body. Good jab from Askarov snaps Pantoja's head back.
Now it's Pantoja trying for a takedown, but he can't get it. Solid right for Askarov. Now working the jab.
Punch for Pantoja and a body kick behind it, but Askarov also landed a counter punch there.
Body kick for Pantoja and they exchange a punch each. Another body kick for Pantoja that's almost caught.
Another kick from Pantoja comes off the arm of his opponent. Leg kick for Askarov. Body kick from Pantoja and counter punch from Askarov.
Olbique kick from Askarov. Leg kick for Pantoja. Now a body kick. Another body kick, but slips, gets up and takes an uppercut from Askarov.
Straight left for Askarov. Hooks from Pantoja. One final punch lands for Pantoja before the round ends.
Decision:
Good competitive fight then and it's Aksarov whose relentless wrestling wins out by unanimous decision (29-28 x3).