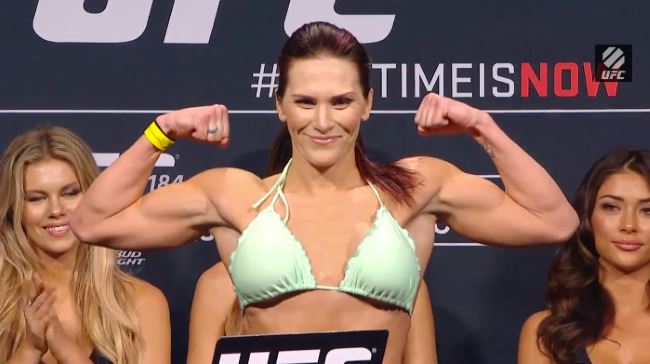 Cat Zingano got back to winning ways tonight with a convincing unanimous decision victory over Marion Reneau at UFC fight Night 133.
Round One:
Push kick for Reneau to start. Head kick attempt from Zingano misses. She lands a leg kick though. Inside leg kick for Zingano, but gets caught with a counter right.
Zingano with an early takedown now. Reneau immediately has her legs up fishing for a submission attempt and before long that makes Zingano opt to just back away and stand back up.
Reneau soon goes into the clinch and presses Zingano into the cage. Nice elbow strike. Zingano with a knee to the midsection. Another elbow from Reneau.
KNees being exchanged. Reneau attempts to pull guard and Zingano slams her to the mat. Zingano in Reneau's guard, but then backs out and goes back to striking range.
Hard inside leg kick for Zingano. Both women looking to land punches. Side kick to the head attempted by Zingano, but lands to the guard. Another leg kick for her.
Both ladies land a punch and it's Reneau who staggers back, but quickly presses forward again afterwards and gets into the clinch against the cage.
Knee from Reneau, but then a very well timed, strong takedown from Zingano to end the round on top.
Round Two:
Left hand connects for Reneau. Zingano doesn't like that and immediately starts looking for a takedown and gets a single-leg to bring Reneau down early in the second round.
Nice elbow from Zingano in Reneau's guard. Soon after Zingano backs out and gets upright. Strong leg kick from Zingano and Reneau stumbles from that one.
Now Zingano with another solid takedown. She drops a couple of hard elbows to the head from guard. She continues to work a little ground and pound and then when Reneau starts to go looking for a submission she stands back up.
Nice right hgand for Reneau. Body kick for Zingano. Left hand for Zingano and then clinches up looking for a takedown, but this time Reneau stuffs it.
Left hand gets through for Reneau. Leg kick for Zingano. Jab lands for Reneau. Zingano secures another takedown towards the final minute of the round.
Few elbows and punches to the head for Zingano. She continues to do that at a measured pace for the remainder of the round.
Round Three:
Leg kick for Zingano. Now one with Reneau. However, Zingano then goes for the takedown and ends up in north south position. Reneau rolls onto her knees with Zingano still on top and then spins around to take the back. Reneau moves again, getting her back to the mat and Zingano settles back into her guard.
Hard elbows dropping again from Zingano. She's staying active with ground and pound here and keeping tight to Reneau's body with no real thought towards passing guard.
So it continues and we're into the final minute of the fight with Zingano still very much in control. Reneau running out of ideas here as far as submissions and Zingano cruises to the bell.
Decision:
No doubt about the winner here, with Zingano bossing the fight with her takedowns and top control to emerge with a unanimous decision victory (30-27 x2, 30-26)