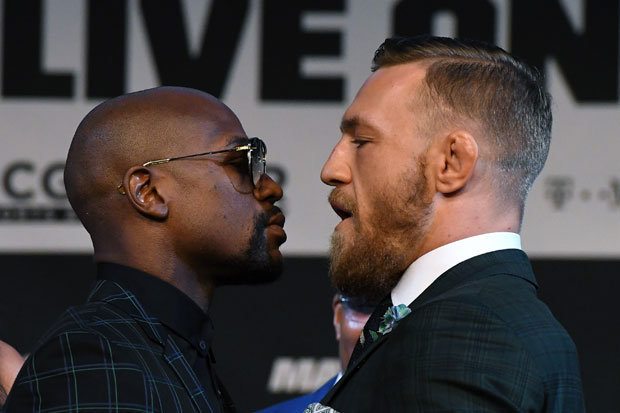 Conor McGregor appears to be back to taking his MMA career seriously ahead of his headlining fight with Donald Cerrone at UFC 246 on Saturday night, but it seems that he still harbors aspirations to fight in the boxing ring again too.
"I'd like to rematch Floyd," McGregor confirmed in an interview with ESPN's Ariel Helwani on Monday. "I think we should rematch Floyd. He's flirting with [a comeback] and doing all this, he can go and pick someone else, it's not going to be the same."
McGregor went on to state that his previous bout with one of the all-time boxing greats, which he lost by TKO in the 10th round, had given him the confidence to believe that he could win if they were to meet again in the squared circle.
"I done phenomenal. I done phenomenal in that bout, and the only reason I lost that bout was because I prepared for a back-footed, Philly-shell style of opponent, and when the fight was like that, I was picking him apart," McGregor said. "Then, he came forward and started pressing, and I wasn't sinking into my shots like I am now with my boxing coaches that are drilling specific boxing things into me again.
"I know I'd beat Floyd. I'd beat Floyd if we rematched – when we rematch. He's not going to do a mixed martial arts bout, like he said. It was supposed to be me boxing then we do a mixed martial arts bout. That was what was said out of his mouth. It was not written but it was verbal agreement. Obviously that's not going to happen and I'm not going to push him on that either but I would like to box him. I think that would be a good rematch."
That being said, McGregor also revealed that he came very close to fighting Manny Pacquiao and it seems that's an option that may still be on the backburner.
"Manny, we were actually close to signing [a fight with] Manny. There's been talks about a Manny fight as well. There was an offer made on that. Just not yet," McGregor explained.
Paulie Malignaggi also appears to still be someone McGregor would like to face, even although his own teammate Artem Lobov defeated him in bareknuckle boxing last year.
"The Paulie [Malignaggi] fight. I'd like to box Paulie as well. I already knocked him out but that's a bit of buzz as well. Paulie and a boxing bout. I want to box again. I will box again. I will get a boxing world title.
"I would box multiple times. I love boxing and I'm damn good."