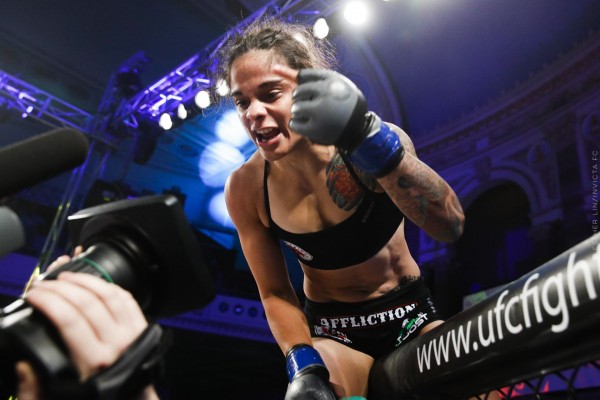 Livia Renata Souza edged out Sarah Frota by a narrow split decision verdict tonight at UFC On ESPN+ 2 in Brazil.
Round One:
Leg kick from Souza. Now a body kick. She goes for a low leg kick this time. Body strike for Frota and then knocks Souza back with a punch.
Souza into the clinch and then lands a judo takedown. However, Forta scrambles and is looking for a submission. They stand for a moment and Souza seizes upon a guillotine choke and drops back down with it. But Frota gets out of it and ends up on top in her opponent's guard.
A few hammerfists from the bottom for Souza. Now it's Frota's turn to lands a few, but taking her time. She drops an elbow. Souza looks to work for an armbar, but nothing doing.
Frota landing to the body. Souza suddenly transitions to an armbar trying to go belly down, but Frota escapes and they stand. Souza lands a nice punch as they do so.
Souza looking to land some heat upright, but Frota is also throwing caution to the wind and lands too. They clinch up at the cage with Souza looking for a takedown, but failing at the first attempt.
Souza goes straight back into another attempt, trying for a single leg. Frota tries to pull guard with a potentail submission, but it just results in SOuza ending up on top and she lands a few blows down to the head of her opponent as the round comes to a close.
Round Two:
Leg kick apiece. Souza with a couple of hooks, but both ladies defense isn't great. Big left hand from Frota appears to rock Souza momentarily, but she recovers quickly. Frota moving in and again lands a left and another punch behind it.
Souza changes the momentum by landing a takedown in the center of the cage. Frota trying to work some rubber guard action her from her back.
Souza with some body punches, but she's getting stifled by Frota's guard and the lack of action leads to a stand-up from the referee.
However, Souza almost immediately brings Frota back down again. She goes for an armbar but Souza is quickly out. Now a knee bar attempt and Souza opts to just stand back up to get out of the that.
Frota landing with a punch. Souza with a punch too. Souza goes for a takedown, but she's a little far out and Frota stuffs it. As they stand up Frota lands some knees in close.
Frota landing some hard shots and Souza doesn't like it. She's soon in on another takedown and manages to take Frota's back this time and tries to sink in the rear-naked choke.
That doesn't pay off, but she is able to start landing some solid ground and pound, then pounces for the choke again and this time it looks tight. There's only seconds of the round remaining though and Frota isn't going to quit easily, managing to peel off her grip and survive to the bell.
Round Three:
Body kick for Souza. She goes for a trip takedown that doesn't pay off. Frota stepping in with heavy punches, but Souza closes distance and clinches up.
They go back to striking range. Nice right hand for Souza and then tries for the takedown, then opts to pull guard instead.
Inside the guard Frota lands some hard hammerfists. Body punches for Frota, but not a whole lot of action and so the referee stands them up.
Frota pressing forward now with purpose. She tries for a head kick but Souza keeps away. Frota trying to get into the clinch for a takedown, but can't get it. Frota with punches and then stuffs another takedown. Souza tries to pull guard but just flops to her back with Frota still standing and landing a few kicks to her grounded opponent's legs.
Kicks to the body being traded here. Cuffing shot knocks Souza off-balance, but wasn't a hard blow. Straight right seems to hurt Souza. Another lands as Souza backs off.
Right hand and a kick from Souza to end the round coming forward.
Decision:
Close fight then but despite coming on stronger as the fight went on, Frosa is outpointed by Souza who earns a split decision victory (29-28 x2, 28-29).