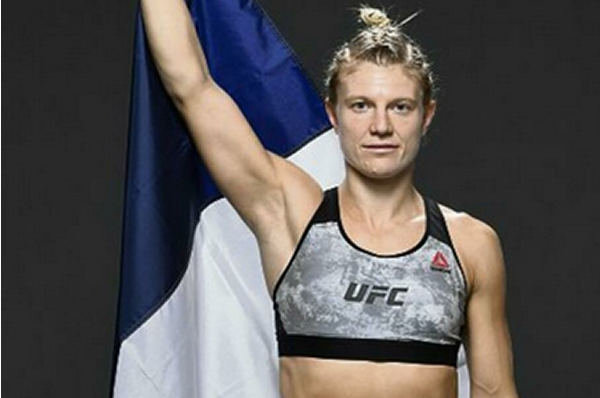 Manon Fiorot bossed the strand-up action against Mayra Bueno Silva tonight at UFC Fight Night 195, but also showed she can operate from the clinch and on top effectively too on her way to a unanimous decision victory.
Round One:
Leg kick for Fiorot. Body kick from Silva. Leg kick for her. Now a front kick to the body from Silva. Oblique kick from Fiorot.
Fiorot leaps forward into a hard punch. Side kick to the body now. Front kick to the body from Silva. Leg kick from Silva as Fiorot looks for punches.
Another side kick to the body from Fiorot. Punches and then another side kick. Punches from Fiorot are blocked. leg kick from Fiorot. More punches as Silva maintains a high guard to block them.
Leg kick, side kick and more punches. Another side kick. More of the same from Fiorot, alternating from the punches to the side kick. Silva shakes her head.
Fiorot undeterred continues to throw out those combinations. Silva keeps shaking her head, but then a side kick to the body knocks Silva flat on her back. She gets off and nods her appreciation for Fiorot's work on that occasion.
Fiorot staying busy. Another side kick lands. Silva lands a front kick to the body and one upstairs.
Grazing right hook from Foirot during her latest combination. Now Fiorot changes things up with a nicely timed takedown and lands it.
Silva looking for elbows from her back. Fiorot with punches and Silva tries to go for a leg lock. Fiorot falls back as she tries to get away, but Silva doesn't have a lot of time to do anything with it.
Round Two:
Back to a three-piece combo from Fiorot and then the kicks behind it. Fiorot attempts a takedown, but it's easily stuffed by Silva. Fiorot gets back up and presses Silva into the cage.
Not too much happening, but Fiorot lands a few knees to the thigh, while Silva chips away with light punches to the head.
They get split up and go back to striking range. Silva lands a couple of solid punches. Fiorot soon back to throwing the three-piece combos and side kicks though.
Clean punch from Fiorot. Silva landing a few strikes of her own, but she's struggling to keep up with Fiorot's relentless pace.
Silva puts her hands behind her back for a bit of a taunt, but Fiorot continues to just stick to her gameplan. Silva does land a nice low kick counter.
A lot of Fiorot's punches are coming off Silva's guard, but the occasional one does get through. Silva attempting a head kick. Side kick from Fiorot and a body kick from Silva. Final seconds of the round and Silva connects and then attempts a head kick, which has Fiorot a little uncomfortable.
Round Three:
One-two's from Fiorot. Now a side kick. She thinks about a takedown, but then thinks better of it.
Another side kick from Fiorot keeps Silva at bay. High kick attempt from Silva. Three punches from Fiorot, front kick to the body from Silva.
Big flurry of punches for Fiorot and then drives into a takedown attempt against the cage. She dumps Silva's to the mat nicely.
Fiorot in half-guard with over three and a half minutes to go. Silva gets to butterfly guard, but then Fiorot passes nicely to side control.
Silva turns and turtles up. Fiorot landing hard punches and Silva rolls to her back, while her opponent stands over her. Silva attempts an upkick but now loses her mouthpiece and the ref gets her to put it back in and gets her back up to the feet.
Fiorot continuing to press forward with her high-volume offense. Now she opts to clinch up against the cage. Not much happening though so with a minute to go the ref splits them up.
Fiorot with a side kick and then punches to the body too. She thinks about another takedown, but nothing doing.
Solid one-two for Fiorot. Silva pressing forward with blood coming from her nose, but not able to really get her offense going to match the onslaught of offense that's been coming her way for much of the fight.
Decision:
No doubt whatsoever about the winner then, with Fiorot dictating the fight from start to finish and that earns her a unanimous decision victory (30-26, 30-27 x2).