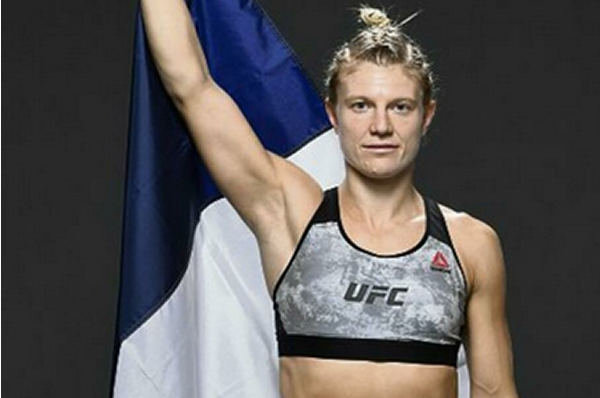 Manon Fiorot has made a big impression during her two year stint in the UFC so far, securing five wins in a row that's put her on the verge of flyweight title contention, and she has now named two of the biggest names in women's MMA as potential opponents for her next Octagon outing.
The 32-year-old Fiorot has already picked up wins over the likes of Victoria Leonardo, Tabatha Ricci, Mayra Bueno Silva, Jennifer Maia and Katyln Chookagian, taking her all the way up to No.1 on the 125lb rankings, so it's perfectly understandable that her main focus next is a fight with current long-time champion Valentina Shevchenko.
It's clearly the fight to make, but unfortunately it's not as simple as that as Fiorot is currently out of action until the middle of next year due to a knee injury, while Sehvchenko recently stated that she wants to make her next title defense in the first quarter of the year.
"I see the interview (with Shevchenko) and, for me, it's normal," Fiorot told MMA Junkie. "I'm the No. 1 contender, so we need to talk about myself when we talk about the belt. I don't know what's happened, I don't know if Valentina knows when she talked about that if I'm injured. If she takes a fight now in a few weeks, it's normal, because I come back in summer. We have to see this fight in 2023, but for now if she takes another fight, I will fight someone else in July or August and then at the end of the year, we will see."
However, despite being so close to a title shot, one option Fiorot doesn't appear to be willing to entertain is just sitting out until Shevchenko becomes available rather than risking taking another fight in the mean time.
"Waiting on Valentina is not an option for me, because I really want to fight in August," Fiorot said. "In my mind, in my mindset, I say to everyone I will beat Valentina. So if I say that, I can win against anybody in the division. So I don't care who I fight in August."
And Fiorot further enforces that point by even suggesting that she'll be willing to fight former two-time strawweight champion Rose Namajunas next if she moves up to the division.
"I don't know against who, but I heard two weeks or three weeks ago that Rose (Namajunas) wants to move up to the flyweight division. I'm the No. 1 contender, so if she comes, she has to fight me. Then after we can see."