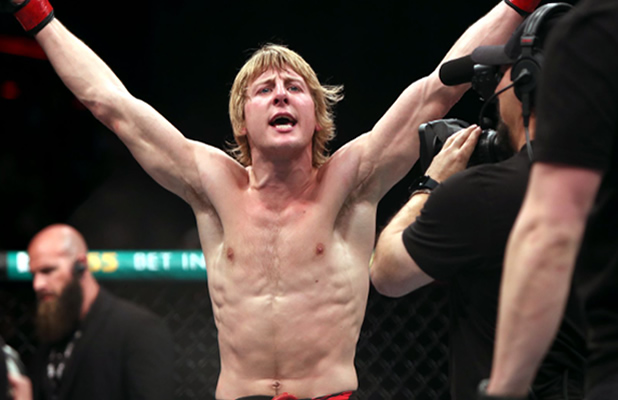 Paddy Pimblett has already racked up two wins in a row in 2022, but the UK star is hoping to fight one more time before the end of the year and has targeted the end of year UFC 282 pay-per-view event at Madison Square Garden on December 10th as his preferred destination.
"UFC 282, I'm planning on fighting on that — Dec. 10," Pimblett said during an appearance at Cage Warriors 144. "So I'm just waiting for an opponent, lad. I'm waiting for someone to step up and sign on the dotted line. Everyone talks about 'The Baddy,' everyone talks about fighting me. But then the contract's in front of them, you know, they're not as confident."
Like Conor McGregor before him, the 27-year-old Pimblett was a long-time fighter in the Cage Warriors promotion, winning the featherweight title and also fighting for the lightweight belt too during an eight-year stint there before signing for the promotion.
Since then he's lived up to the expectations that he could be a star in the Octagon so far, notching up three wins in a row, starting with a first round KO finish against Luigi Vendramini, followed by back-to-back rear-naked choke finishes against Rodrigo Vargas and Jordan Leavitt.
There's plenty of fighters who are eager to go up against 'The Baddy', but despite his outspoken personality, don't expect him to be calling out anyone in particular.
"I'm the star of the show," Pimblett said. "I don't need to talk about anybody."
Dana White certainly seems to agree with Pimblett that he's a star, as after his last win at a UFC Fight Night card in London he indicated he was ready to bring him stateside for one of their big PPV's.
"I think what we do next is we take him to either Boston or New York and he ends up on pay-per-view and then you bring him to Vegas," White had said after the London show.
It's worth noting that Pimblett actually hadn't been keen at all about that plan at first.
"No I am not fighting in New York. End of," Pimblett had stated at the time. "I am not fighting in New York. I am not getting robbed by the taxman."
However, it seems he's now on-board with the idea and is now just waiting for the UFC to line him up with a suitable opponent.