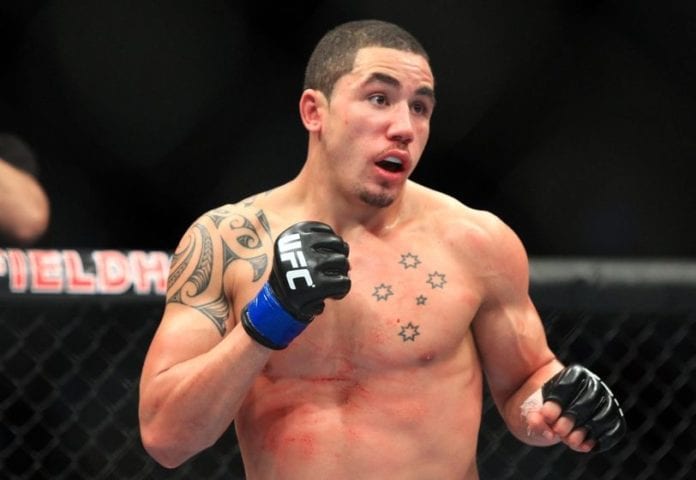 Former middleweight champion Robert Whittaker has revealed that he pulled out of UFC 248 because he was feeling completely burnt out after several years of competing at the highest level in the Octagon.
According to Whittaker he started to hit breaking point in the middle of training at the Wanda Dunes in Sydney, Australia on Christmas Day, 2019.
"I just stopped," Whittaker told The Daily Telegraph. "Then stood there, asking 'what the f… am I doing?' It was Christmas Day. My family was somewhere else.
"That moment, it's when everything crashed."
"Walking back to the car afterwards, I told myself that what I was doing, it wasn't normal," Whittaker continued. "That I couldn't keep going like that. So after arriving home, I got straight on the phone to my team, who had been at Wanda with me, and said 'everything is paused until I work out how to stop feeling this way.'"
Whittaker subsequently withdrew from his fight against Jared Cannonier at UFC 248 and taking time out to recharge his batteries is not a decision he regrets as he simply doesn't feel he could perform at his best the way things were.
""You can't say 'hey, maybe I'm burnt out,'. As soon as one fight is over, you have another title fight on the way. So the negative thoughts, you block them out. You bite down on your mouth guard and work through. And physically, we were training at an intellectual level, with loads and spreadsheets, lighter sessions that involved stretching.
"But again, mentally I was burnt out. And you can only do that so long before you wind up in a fight below your mental best."
And Whittaker says he's already reaping the benefits in terms of his family life as a direct result of his reduced training schedule.
"It means I can do things Saturday night too. Same as I'm now playing with the kids late into Sunday afternoon rather than being completely spent.
"The changes I've made, it really will change my life. Not training to exhaustion every day, I guess you can say I'm living."