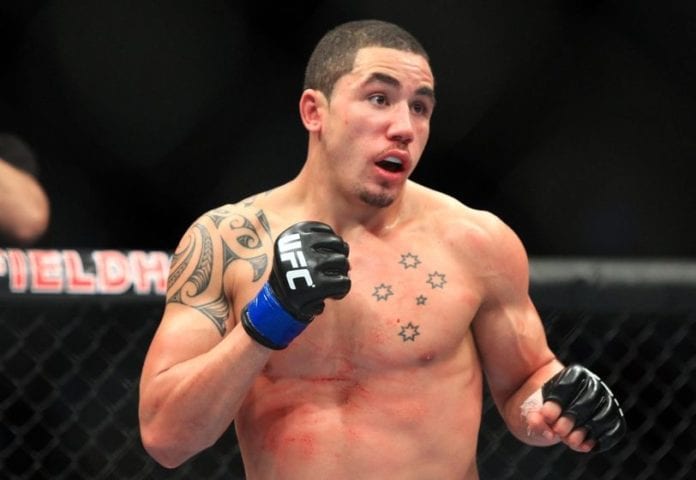 Former middleweight champion Robert Whittaker appeared to have a friendly relationship with his next opponent Darren Till on social media in recent months, but now that the fight is officially booked he's switched gears and is now all business.
"Honestly, it's the same as it's always been," Whittaker told Submission Radio when asked about his preparation for the fight. "It's cool how it's a different approach, but I'm not really thinking about whether Darren's a cool guy or not. Before the fight was lined up, it was cool to just josh back and forth, have a bit of a laugh at it, and try to make some interest for the fight, but once we kinda knew we were fighting, I don't really care what sort of person he is. It's one of those things where all I'm focusing on now is crushing him.
"For one, let me just say, I have no friends in the middleweight division. (Laughs). I can't be friends with anybody I could be fighting, so let's just clear that up. And two, mate, we're in the fight game. It's cool to be lined up with a guy that isn't acting like a Gronk, but at the end of the day, he's coming to take what's mine and I'm coming to take what's his. That's the game we're in. That's the fight game, that's the fight world."
Whittaker and Till fight at UFC Fight Night 174 on Yas Island on July 25th and while there's unlikely to be any bad blood between the two, the former champ is expecting to be in a war when they do meet in the Octagon.
"The thing is, we're just cool," Whittaker said. "We're cool. He's doing his thing, I'm doing mine. We have a bit of fun but we're both respectful. Don't get us wrong though, the weeks are getting closer and our sights are set on each other's faces. It's war time. I'm ready for the fight of my life and I'm gonna bring the fight of his life."
It wasn't so long ago that Whittaker took time out from the sport after admitting to having burned out while he was the divisional champion, and heading into this next fight he's admitted that he's not even planning on winning back the belt yet.
"I haven't even thought about it," Whittaker said. "Honestly, I haven't even thought about it. I'm just enjoying the ride. Like I said, I'm just a ranker now. I'm in there, I'm looking to fight Darren Till, beat him, and worry about the next step after."