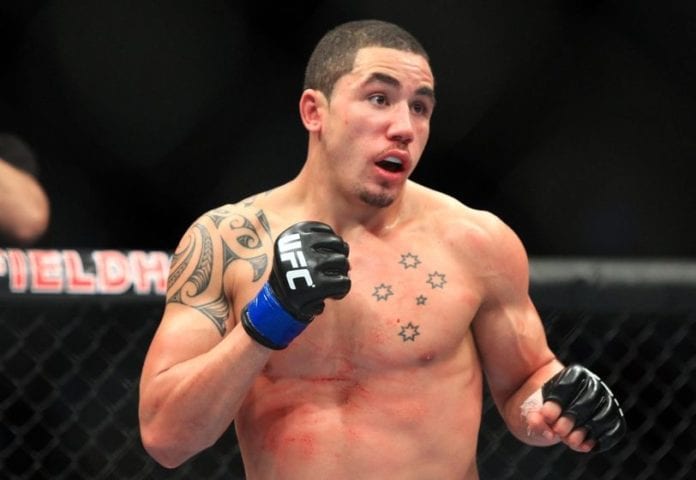 Robert Whittaker was supposed to fight Paulo Costa earlier this year at UFC 284, but it fell through after his opponent withdrew from the bout due to not seeing eye-to-eye with the UFC over his protracted contract negotiations.
Costa has since signed a bumper new deal with the promotion and has talked up the possibility of now facing Whittaker alongside other middleweight stars like Khamzat Chimaev and Sean Strickland, but it seems that 'The Reaper' has now lost interest in the match-up.
"I'm not fighting him because, mate, this is the second time I was supposed to fight him, and he's pulled out, and it just mucks everything up," Whittaker said on The MMA Hour show. "I have to do a whole camp, and I make expenses and costs and everything like that to get to a point where he falls away. This is the second time he's done it. I want a fight that's going to happen. I want a sure thing."
Khamzat Chimaev is another fighter that could be a possibility for the No.2 ranked middleweight contender, but Whittaker appears to be equally unenthused by that idea too.
"Chimaev, he's not in the division rankings," Whittaker said. "I'm not a huge fan of guys just sliding in fighting wherever they want. It's a different place. Like, the rankings are there for a reason, right? I like fighting top-five guys. That's just where I'm at. I like fighting top about five guys because they're the guys that they're the best of the best, and they've earned, worked their way through the division to get there. It is so much harder to work your way through a division than to just slide in at the top."
So who does that leaves Whittaker to fight next?
Given that Whittaker has indicated his interest in fighting someone in the top 5 that doesn't actually leave many options as he's already lost twice to current champion Israel Adesanya, his last fight was a win over the No.3 placed Marvin Vettori, while he seems to be eager to rule out the possibility of fighting the 5th ranked Costa.
Add in the fact that current No.1 contender Alex Pereira has recently announced that he intends to move up to light-heavyweight that only leaves one other option in the current top 5 – Jared Cannonier, who Whittaker already beat by unanimous decision in 2020.
So it may be that the former champ will need to look a little further down the rankings, where things start to open up a bit more for him as he's yet to fight either the 6th ranked Dricus du Plessis or No.7 Sean Strickland.
Those both sound like good options, but of course the final say in the matter remains in the hands of the UFC, so at this stage Whittaker going up against the likes of Costa or Chimaev next still can't be completely ruled out.