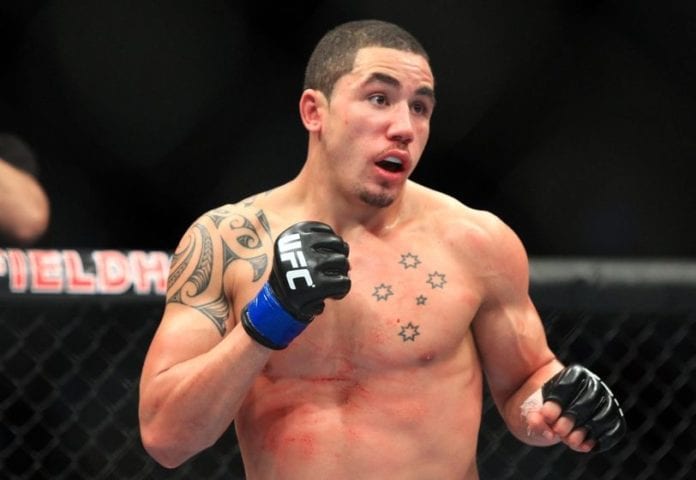 Middleweight champion Robert Whittaker appears to be confident he can beat interim titleholder Israel Adesanya after watching his instant classic fight with Kelvin Gastelum at UFC 236 last weekend.
"If you watch the fight you can see the holes that were there from every fight before, they just got exposed bigger," Whittaker told Ariel Helwani yesterday on ESPN. "There were holes and there were a lot of things Gastelum exploited, and there were a lot of things Gastelum could've exploited but couldn't because of his makeup, because of his striking style, because of his height, his reach. Gastelum was getting in. Gastelum was landing his left. I'll get in, I'll land my right. I'm much faster than Gastelum, I'm a better striker. Israel should be very worried. I'm a very hard fight."
"…He doesn't like getting hit and he's very, very hittable," Whittaker continued. "I hit hard. If he can weather the storm and take my shots and survive five rounds like he did with Gastelum, then congratulations to him, he'll get the win. But I don't think he's going to. I'm a better fighter than Gastelum. I hit harder, I'm faster and I come with a new level of intensity he's not used to."
Whittaker is currently on a nine-fight winning streak that's included back-to-back wins over Yoel Romero most recently, so he has every right to be confident, although his championship run to date has been hampered by injury woes and he's currently still nursing himself back to health after a weight-cutting disaster at UFC 234, which saw him being rushed to hospital with an abdominal hernia and collapsed bowel.
Adesanya will be his next fight when he recovers though and Dana White has indicated that it may well take place in Australia, although the fighters themselves may be keen for it to take place in New Zealand given that they both have roots there.