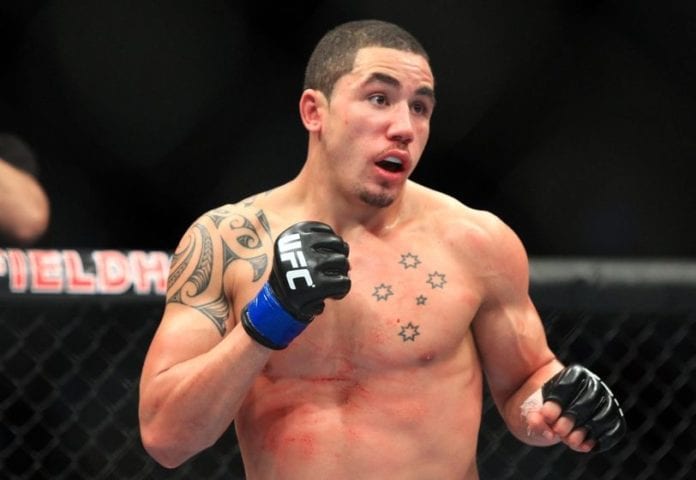 Former middleweight champion Robert Whittaker got back to winning ways tonight at UFC On ESPN 14 with a competitive decision victory over Darren Till.
Round One:
The main event of the evening is underway on Fight Island.
Till tries to charge forward and is greeted by a crisp jab from Whittaker. Whittaker again with a jab now. Again Till pressing forward, but Whittaker is waiting for him each time.
Low leg kick for Whittaker. Kick to the body from Whittaker is almost caught by Till. Both men throw at the same time and it's Till who connects with an elbow and Whittaker falls to the mat from that, but is soon back up to his feet.
Till with a kick. Grazing left hand from Till and then a cleaner left behind it. Till gaining confidence here. He moves into range and clinches up to Whittaker against the cage.
Knee to the body from Till and then one to the leg. Again and knee and Whittaker tries for a hip toss, but its stuffed.
Till throwing with purpose and then a head kick attempt. Low leg kick from Whittaker. Punch followed by a head kick attempt from Whittaker misses.
Whittaker avoids a flurry from Till and lands a counter for good measure. jab for Till. Another outside low kick from Whittaker.
Whittaker with big swings but misses. Now he lands cleaner though and then a leg kick. Final leg kick for Whittaker as the round ends.
Round Two:
Whittaker with a head kick attempt. Till misses with a strike and Whittaker catches him clean with a counter.
Leg kick for Till and then goes back to it again. Whittaker closes the distance fast with an overhand right and drops Till to the mat.
Whhittaker gets on top in Till's guard, but takes his time, mashing his elbow into his opponent's face and then neck.
Body punches from Whittaker and then a big punch upstairs. Nasty elbow from Whittaker. The former champ improve to half-guard.
Body-body-head from Whittaker. Now a short elbow. Till turns his back to Whittaker and it's taken, but Till is able to stand and separate nicely.
Back to striking range then. Low leg kick for Whittaker. Feints from Till. Calf kick for Whittaker. Again he goes for it. And again.
jab from Till gets through. Right hands from Whittaker. He thinks about an overhand, but then aborts it. Left hand from Till off Whittaker's guard.
Winging punches from Whittaker miss. Till tries a head kick that's blocked. Right head kick from Whittaker just misses.
Round Three:
Calf kick again from Whittaker. He lunges forward with a couple of punches. Uppercut from Till. Till presses forward probing at Whittaker's guard. Now a kick upstairs that's blocked. Elbow attempt from Till.
Right hand from Whittaker. Glancing jab from Till. Punch from Whittaker and then is off-balance with the punch behind it. Whittaker with winging punches, throwing caution to the wind. Leg kick lands.
Overhand right from Whittaker. He just gets his head out the way of a head kick attempt from Till. Whittaker misses with one of his own.
Nice jab from Whittaker. Two-piece combo for Till. Right hand and then a left hook from Whittaker and a knee from Till. Whittaker missing a bit wildly at times.
Leg kick for Whittaker. Whittaker in on a single leg attempt, but doesn't get the fight to the mat.
Low leg kick again from Whittaker. Jab from Whittaker and an overhand right that misses. Till connects. Single leg attempt from Whittaker, but again Till stuffs it.
Whittaker jumping into a power left hook that whistles over Till's head.
Round Four:
Till saying in-between rounds that he's having difficulties putting weight on his lead leg – likely due to Whittaker's many low kicks in the previous rounds.
Brief exchange in close. Till just short with a head kick. Nice stepping one-two from Till. Leg kick from Whittaker.
Another low kick from Whittaker. Again he lands it. Till with a leg kick now. Head kick from Whittaker misses.
Elbow lands for Till and then solid punches behind it. Whittaker still ok though. He wings and misses with punches.
Leg kick for Whittaker and Till can't be enjoying that. Both men throw a power punch at the same time, but just miss.
Till avoids a jab. Single leg attempt from Whittaker to set up an overhand right, but not quite finding the mark.
Missed leg kick from Whittaker this time and then a looping left hand that comes up short. Left hand for Till.
Clinch in the center of the Octagon. Knee from Till, uppercut lands nicely for Whittaker.
Straight lands for Whittaker and then pressing Till up against the cage hoping for a takedown, but he can't get it.
Punch lands for Whittaker.
Round Five:
Hard overhand launched by Whittaker. He throws it again. Whittaker attempting a takedown, but doesn't pay off.
Till lands from range. Quick lunging one-two from Whittaker comes up short. Low leg kick for Whittaker. Now a front kick to the body.
nice fast straight left from Till. Inside leg kick from Whittaker. Leg kick lands for Whittaker as Till was trying to throw one of his own. Whittaker tries for a single leg, but Till stuffs it.
Clean left hand for Till. Whittaker wades in with a right hand that doesn't connect. Counter left from Till as Whittaker is moving in.
Till rushes in with a left hand. He lands well with a straight left. Calf kick for Whittaker. And he lands it again. One more leg kick for Whittaker.
Whittaker attempting a single leg, but he just can't get Till down and retreats with a punch.
Good elbow from Till and Whittaker has a nasty cut to the side of his head. Whittaker gets a takedown, but Till gets straight back up.
Against the cage Whittaker slams Till back down. Till swiftly back to his feet. Whittaker partially able to pull him down one more time and then opts to tick down the final seconds just pressing his opponent up against the cage.
Decision:
A good battle here then, but after being troubled in the opening round with a knockdown, Whittaker returned the favor in the second round and then seemed to get the better of the action going forward to claim a unanimous decision victory (48-47 x3).