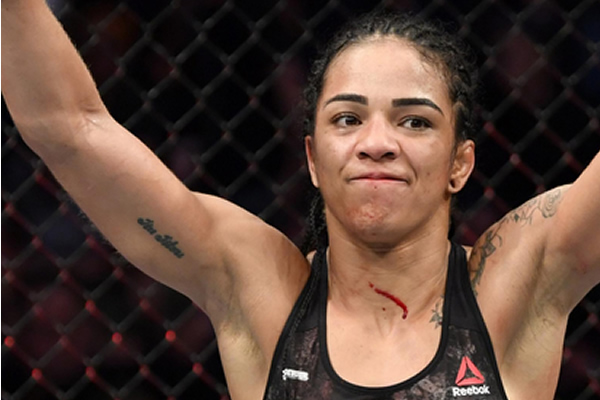 Viviane Araujo was able to put together a solid all-round performance against Jennifer Maia tonight at UFC Fight Night 230 to get back to winning ways via unanimous decision.
Round One:
Araujo fires off an early jab. Maia comes up short with a right hand. She does land a jab though after missing with another right.
Maia lands again. Araujo tries to throw a knee, but Maia's jab lands first. Calf kick for Araujo. Suddenly they bite down on their respective mouthpieces and fire off hooks at close range.
Araujo with a leg kick. Good left hook lands for Araujo as they exchange again. Araujo ducks under a punch and tries to clinch, but Maia starts to reverse that position. Araujo breaks away while landing a strike.
leg kick for Maia. Now one from Araujo. Both land a punch at the same time. Uppercut from Araujo and a good counter in return from Maia.
Inside leg kick for Maia. Maia tries to clinch up but it doesn't pay off. Back to striking. Araujo working for a takedown against the cage now, but Maia defends it as the round comes to an end.
Round Two:
One-two from Araujo. She goes for a takedown and as to work for it, but has Maia off-balance and lands it. Maia soon scrambling back to her feet though, but Maia has the body lock and hops onto her back to force the action back to the floor.
Maia turtled up here as Araujo tries to work an arm under the neck and lands punches with the other. Araujo almost losing balance on top, but readjusts and gets the body triangle sunk in while up against the cage.
Araujo comfortable here for now, but not getting too much work done from the position. Final 30 seconds and Araujo goes for a neck crank. Maia fights that off and there's a bit of a scramble as the round comes to a close.
Round Three:
Body kick from Maia. Araujo thinks about ducking for a takedown, but doesn't commit to it. Jab for Maia as Araujo looks to land her own.
Jab for Maia. Leg kick from Araujo. leg kick for Maia but eats a punch in the process. Right hand from Maia in close.
Maia with a few winging punches at clinch range. Araujo in on a takedown attempt against the cage now, but Maia is defending it. Miaia landing a few light elbows to the head as she tries to stay upright.
Finally Maia breaks free. Maia pressing forward aggressively with punches and then goes for the takedown and lands it well. Good burst of energy from her. Araujo standing up, but Maia brings her back down. Araujo turtles and then stands, getting her back against the cage.
Maia with a hook in and then drags Araujo down while trying to work for an armbar from her back. It doesn't work out though and Araujo is now on top. Maia thinking about the armbar again and then a potential triangle choke, but nothing doing and that's where the fight ends.
Decision:
A solid performance from Araujo here to bounce back from two losses in a row to earn a unanimous decision victory (29-28 x3).