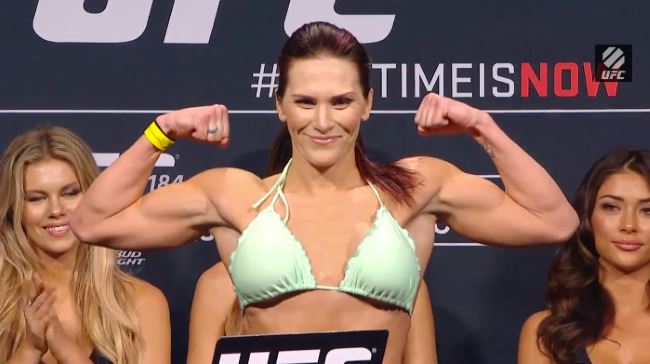 Cat Zingano has been out of the Octagon for over a year, but it seems that after watching Cris 'Cyborg' Justino become the women's featherweight champion that she's more hungry than ever to compete.
In fact, after seeing how 'Cyborg' fared with Tonya Evinger at UFC 214, the 35-year-old former bantamweight title contender now firmly believes she could beat her.
"This weekend I feel like I got to learn a lot watching this fight with Tonya, you know, seeing Tonya control the pace and seeing the fact that Cyborg had a handful with that girl, [which] I actually didn't expect." Zingano stated on 'The MMA Hour' show.
"Me and Tonya used to have to wrestle each other in college so I knew she was strong and tough, but I didn't necessarily see it transfer over to MMA – as I've seen in wrestling. But she obviously pulled it together, and that's why she's a champion at 135 [pounds] and I felt she did a pretty good job against Cyborg, and at least she's tough, you know, at the very least. And watching that fight I was like, 'Man, I have something for that, I have and answer to that,' and for everything that didn't work for Tonya. Watching that fight opened up my eyes to some things and it just made me more excited to get in there with that girl. I think the match up is one of the century and I have what it takes to take Cyborg down, if anyone does."
Later, Zingano elaborated on some of the aspects of 'Cyborg's' performance that had given her reason for optimism.
"I think she kind of waits for you to be up against the cage, you know, and then she comes in with some head movement and then fires off some big explosive shots. And when she was getting tied up in the clinch, she was very easily put against the cage, and I believe Tonya took her down, and I think that there could be better cover there on someone like her.
"And there were parts that I felt she was getting really tired, and if it weren't for the one minute break in between rounds, I felt like she was getting a little exhausted. Those are things that I love to see and read, and I'm very conscious of when those are happening. With some of the biggest things she was throwing, I mean, she's got aim, she's got power, but you know, so do I and I have very good timing. So It's a very aggressive person against a very aggressive person, and the places that she's strong, I'm also strong, but I'm strong in other places as well that we haven't seen a whole lot out of her.
"So I'll take the shot, it looks really fun and I feel like I've gotten a lot of information based on what I saw."
Zingano was previously linked to a fight with 'Cyborg', but despite the UFC appearing keen on the idea it didn't come to fruition, and she may now have to wait in line as Dana White had indicated after UFC 214 that Holly Holm could be next in line.
However, Zingano also has her eyes on fighting current women's 135lb champion Amanda Nunes as well, so she's not short of options at this moment in time.